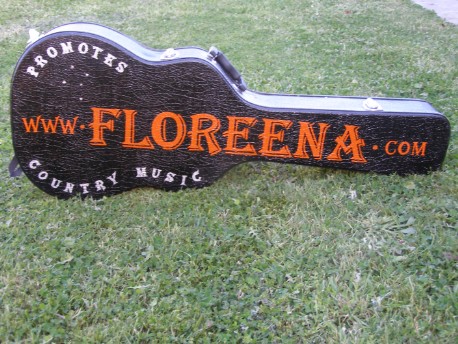 ARTIST'S NEWS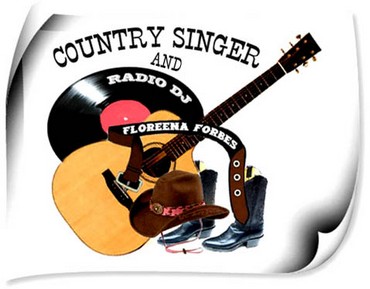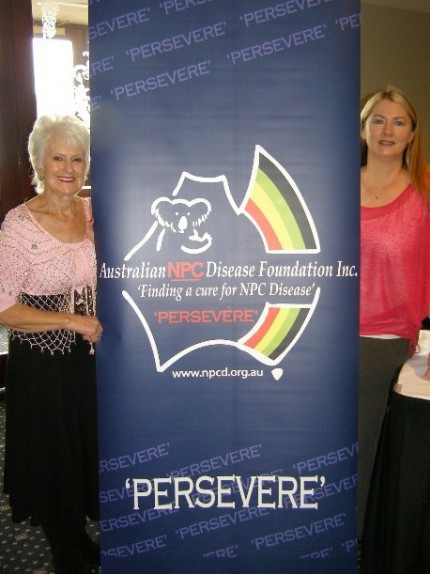 Bendigo's 2 Country Divas,Olive Bice "OAM"-Floreena Forbes 27th Sept Kangaroo Flat Sports Club 6-10/30Pm
Ollie & Dolly "Little Old Ladies" & Their yodel Oh A De O Lahaty
many other musicians have kindly donated their talents. Sound by George Farnham.We are raising money for the Australian Niemann Pick Foundation inc to help find a cure for NPC disease.These Fundraisers over the past 5 years has raised $15,000,6.50.
This year will be our 6th Year.
Help us by attending our concert of great acts for a small fee of $15.00 tickets available now.
Phone 0409407458.to be sure of a seat.
limited tickets will be available at the door
a Pre selected Niemann Pick MENU 3 Course Meal will b available on the evening at your own expense.
Details listed on the poster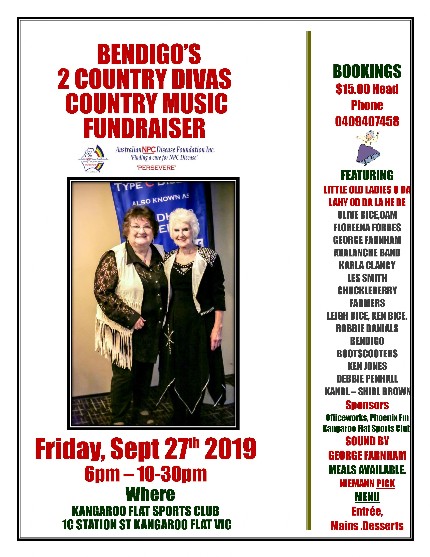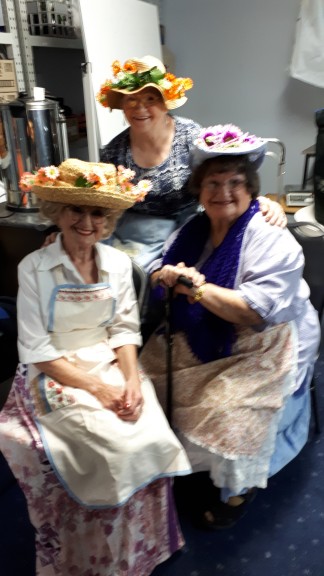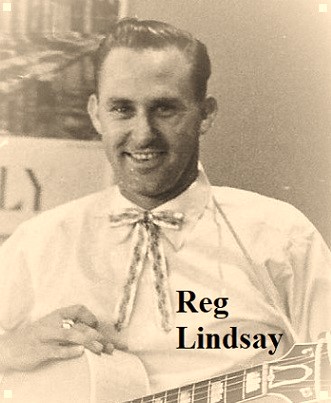 Reg Lindsay.
(Remembering Reg on the anniversary of his birth)
He was born Reginald John Lindsay on July 7th 1929 Sydney.
His first appearance in music began in 1948 on Dick Fair's Amateur Hour and again in 1949 – however it wasn't until a motorbike trip from Adelaide to Sydney in late 1950, he took out first place. It was the Tim McNamara's Talent Quest. This win lead to a recording contract with Rodeo Records with his first single released in 1951 - Blue Velvet Band' back with 'Streamline Yodel'
Ever since riding into Sydney and appearing on the talent quest – he became quite well known. In 1952 Reg had his first radio station on 2CH he shortly crossed over to 2SM where he stayed for ten years. In 1955, Reg was invited to tour with Canadian singer Wilf Carter – Wilf fell ill on the second show and couldn't continue with his tour of Australia, so Reg made it his own show and it was a huge success.
He ran his own TV show 'Country Hour' and later 'Country Homestead'. In 1968, he made his first trip to the US. One of his biggest hits was 'Armstrong' – and this month (July 2019) celebrates the 50th Anniversary of man landing on the moon.
Reg did just about everything in the entertainment industry from his own recording to media ambassador of Country Music. Opened the door to the US market so that young Australian country singers could have a chance at the big apple.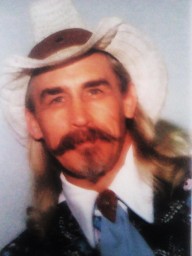 Cowboy Bob Purtell - RIP
Bob Purtell was born in West Wyalong NSW in 1939. After leaving school he entered the bakering trade but was forced to seek other work.
In 1969, Bob began his career in Country Music with the help of Bill Kelly and Kevin King. His first TV appearance was on Reg Lindsay's Country Homestead (9 appearances in total) and also on Frank Ifield's show.
In 1976 he scored himself a Gold Guitar for Best New Talent. . . In 1981 Bob's debut album 'Cross Country Cowboy' was released, which featured some great songs including:- Old Black Hat, Ballad of Billy Reed, Cowboy and Trucker's Lullaby.
Two years later he released his 2nd album 'Black Sheep' on the Nev Nicholls label 'Nicholls'n'Dimes'. In 1988, he was inducted into the Country Music Hands of Fame.
In 2014, I caught up with Bob and his wife and did this interview with him. It was about 18 months later I dropped in to see him again to record some of his stories of his career on audio. A great showman.
He passed away July 3rd 2019 at age 79.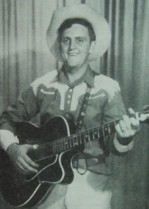 William 'Wally' McQuaker 1934 - 2019 RIP
Wally was born in Rockhampton, Queensland. He teamed up with brothers Doug and Roy and formed the Sundown Songsters. His first major tour was the 1959 Chad Morgan Show where he sang and also did comedy as 'Bindi-eye', his wife Alice also did the comedy acts with him.
In 1961 he toured with Buddy Williams. It was after he left Buddy's show, Wally did a comedy spot on GMV-Juniors and became the much loved Joey the Clown - he would soon take over production of the show. GMV-6 (Shepparton Vic). Around 1973 he moved to Coffs Harbour.
In Tamworth 2005, he was inducted into the Country Music Hands of Fame. I caught up with Wally in Coffs Harbour around 2001 and a couple times I Wally in Tamworth.
Wally died on June 28. age 85.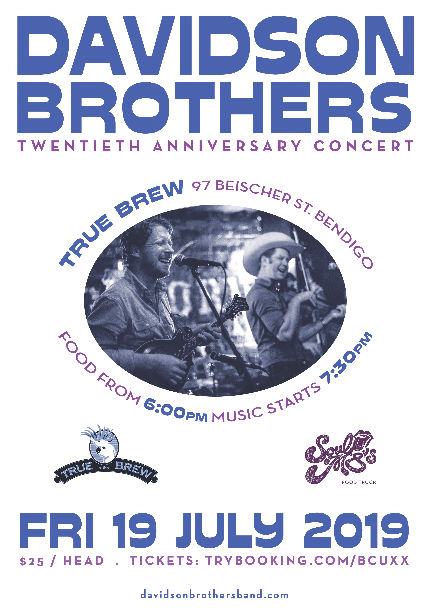 Lachlan and Hamish Davidson
Davidson Brothers celebrate 20 years of music
Five-time Golden Guitar winners, the Davidson Brothers release date for one-off show in Bendigo
Bendigo, Victoria – July 19, 2019 – The Davidson Brothers are celebrating the 20th anniversary of
their first album release, 'Blue Spruce,' and will be performing a one-off show in Bendigo to mark the
milestone year.
"We're going to play a lot of songs that we haven't played to crowds in a very long time, so it should
be a memorable night," Hamish said.
The brothers barely seem old enough to be celebrating 20 years of writing, recording and performing
music but coming from a musical family it seemed inevitable that they were born instrument in hand.
"We spent our younger years following our parents around with their pipe band and we discovered
bluegrass after travelling to America in 1997. We've had the greatest time touring over the years and
we're excited to put on a gig that showcases a lot of our old and new music," Lachlan said.
Together Hamish and Lachlan have released 8 albums, toured the globe and played with some of the
biggest names in Australian country music including Melinda Schneider, Troy Cassar-Daley and Lee
Kernaghan. More recently the boys have been infusing their bluegrass style with rock, performing with
the likes of INXS' Andrew Farriss and Joe Camilleri from The Black Sorrows.
"We've released over 100 songs in the past 20 years so we'll have some fun picking out what to play on
the night. We always have a ball with our Bendigo fans so there's no better place to celebrate," they
said.
It takes a lot of commitment to keep a musical marriage alive for 20 years and with a string of awards
under their belt, including 5 Golden Guitar gongs it's safe to say the Davidson Brothers are here to stay.
The Davidson Brothers 20th Anniversary show will be held at True Brew Bendigo on Friday 19 July.
Soul M8s Food Truck will be at the venue from 6pm, with music kicking off from 7:30pm.
Tickets available at trybooking.com/BCUXX
Enquiries bookings@davidsonbrothersband.com
Media contact
Hamish Davidson - 0439 310 217
dr.hamish.davidson@gmail.com
davidsonbrothersband.com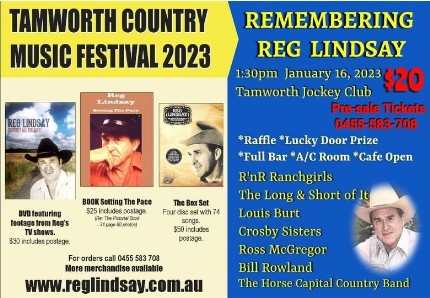 The 3rd Reg Lindsay Memorial Talent Quest -
January 20th 2020 - Family Hotel, Tamworth
also . . Remembering Reg Lindsay Showcase
For more information re: the Talent Quest please contact Roslyn at info@reglindsay.com.au / website: www.reglindsay.com.au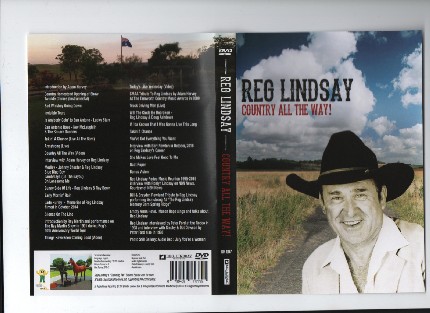 REG LINDSAY
The official REG LINDSAY DVD has been released entitled "Country All The Way" Will be available in Tamworth.
Bert Newton talks about Reg,even Mason Hope talks about how he become to know his music.Snippets from Reg TV shows Country Western Hour and Country Homestead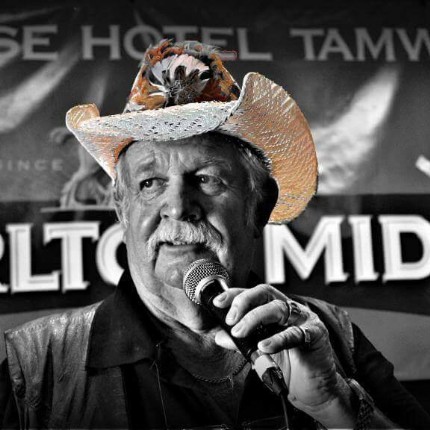 YESTERDAYS HERO'S SHOW TAMWORTH
HELPERS AND THOSE THAT ATTENDED
YESTERDAYS HERO'S SHOW TAMWORTH WAS HELD 24.1.2019
( PROCEEDS WENT TO THE AUSSIE FARMERS )
VENUE:Bill Chambers Room.The Pub Gunneda Rd Tamworth.The Pub Group owns and operates a number of entertainment venues in the City of Tamworth
Proceeds to drought stricken Aussie Farmers..."R U AWARE"
Compere on the night..YES yours truly the Legendary Fibber Parker..Tamworths longest continuous serving entertainer.
Artists 4 Yesterdays Heroes included Anne Kirkpatrick,Chad Morgan,Reg Poole Oam,Terry Gordon Oam,Owen Blundell,Allan Caswell,Craig Robertson,Jodie Crosby, Kelly Diamond Crosby,Keith Jamieson, Gina Timms,Roo Arcus,Floreena Forbes,Allan Gumm ..Fibber's Granddaughter Mackenzie Timms pllus others in next update..proceeds to drought stricken Aussie Farmers..."R U AWARE" stay tuned for rundown on a great backing band lineup...Compere on the night..YES yours truly the Legendary Fibber Parker..Tamworths longest continuous serving entertainer.
---