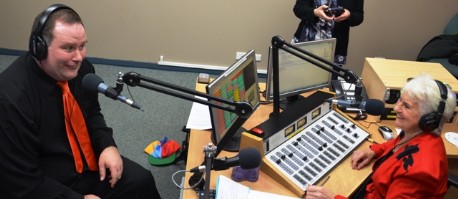 COUNTRY MUSIC ARTISTS
Floreena Forbes OAM & Country Music Historian
Jack Paten (Drongo Jack )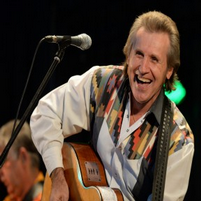 CRAIG GILES
After thirty two consecutive years as a professional entertainer, there is no sign of slowing down for this dynamic artist who always captivates his audience with his spontaneous performances.
Craig is known by media and fans alike as "Mr Versatile" owing to his extensive and varied repertoire which spans popular ever-green classics, songs from the 50's and 60's Rock'n'Roll era through to all styles of Country Music.
Continuously on-the-road, Craig has a string of successful albums and chart singles plus endless awards and accolades to his credit which has earnt this popular artist a prominent place amongst the cream of Australian Entertainers.
For the past eight years, Craig's hectic touring schedule has also included annual International Music Tours and Cruises.
To date, Craig has hosted six
Music Tours Of America
, where his diverse performances have included Elvis Tributes in Mississippi, guest spots at Al Green's Tabernacle Church in Memphis, Tributes to Johnny Cash in Chattanooga and various other guest spots at Honky Tonks and on River Boats throughout the tours.
Craig has also been the Celebrity Host for Music Tours and Cruises of Ireland, Scotland, London, Canada, Alaska and New Zealand.
Amid all the touring, in 2018, Craig released his sixteenth album titled "With A Little Help From My Friends."
For more extensive information on Craig's various shows, awards and National & International performances, visit his website at
Craig Giles Management - Big River Entertainment
mobile: 0408 597307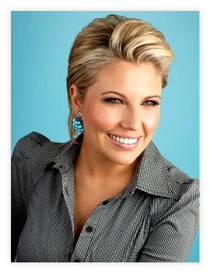 MELINDA SCHNEIDER
Melinda Schneider, daughter of Australia's Yodelling Queen Mary Schneider, and a Policeman was born on 7 October 1971
Melinda began her career at the age of 3, when she appeared on stage with her mother. It was at this age, her mother taught her how to play the ukulele, even today she can still thump out a tune on the instrument. (The ukulele certainly has made a huge comeback in more recent years)
It's believed that by the age of 4, the first song Melinda learnt on the ukulele was 'The Way We Were' which was recorded by Barbra Streisand in 1973.
At the age of 8, Melinda appeared on her mother's album 'The Magic of Yodelling'. The song she recorded with her mother was 'I Just Want to Yodel like You'.
It was reported that the song stirred up some of her mother's fans. After a show, where Melinda and Mary performed 'I Just Want To Yodel Like You, fans of her mother would come up to eight year old Melinda to say, "you'll never be like your mother'. The Melinda being professional took it in her stride.
Melinda was always interested in entertaining, where she also studied drama and made her acting debut on the well-known TV drama 'A Country Practice' at the age of 13.
In regards to music, although it was through her song writing that she discovered her true love of Country Music. She released her first album at the age of 28 titled
In 1995 she won a MO Award for best new talent, two years later she appeared with her mother on the very outspoken Howard Stern Show - on promo tour of her mother's album 'Yodelling The Classics'.
In 1999 she teamed up with Adam Brand with 'Love The Night Away' and won a Golden Guitar for Vocal Collaboration in 2000.
It was after a 10 year marriage she and her then husband divorced in 2006, although Melinda is happier than ever now in a relationship with Mark Gable. The achievements kept coming to Melinda, in 2008, she launch her own independent record label 'Be Music'.
In 2010, Melinda released an album 'Melinda Does Doris' a tribute to Doris Day - containing songs made famous by Doris. This album was the lead up to bigger this for Melinda.
In May 2011, Melinda starred in her own theatre show 'Doris, So Much than the Girl Next Door'. It was written by Melinda and Dave Mitchell. The show told the story of Doris Day's life, it was a great success, with great reviews. Her songs have been recorded by many artists, including Johnny Farnham, Billy Thorpe, Jimmy Little, Olive Newton-John and Paul Kelly.
November 2011, Melinda donned a moustache to join Mark as ambassadors for 'Movember' at the Gala event at Luna Park, Sydney.
In the latter part of 2012, Melinda and Mark became parents to a son they called Sullivan
1995 - MO Award
2000 - Golden Guitar - (Collaboration with Adam Brand)
2001 - MO Award
2001 - ACE Award - Female Country Performer
2003 - MO Award
2003 - Golden Guitar - Female Vocalist of the Year
2003 - ACE Award - Female Country Performer
2003 - People's Choice Awards
2003 - Best Song and Best Album of the Year
2006 APRA Awards Most Performed Country Work ("Pony")
2007 APRA Awards Most Performed Country Work ("Nothing at All")
2008 ARIA Awards Best Country Album (Rattlin' Bones)
2009 APRA Awards Country Work of the Year ("Rattlin' Bones")
2009 CMAA Awards Album of the Year (Rattlin' Bones)
2009 CMAA Awards APRA Song of the Year (Rattlin' Bones)
2009 CMAA Awards Single of the Year (Rattlin' Bones)
2009 CMAA Awards Video Clip of the Year (Rattlin' Bones)
2009 CMAA Awards Highest Selling Album of the Year (Rattlin' Bones)
2010 CMAA Awards Female Artist Of The Year (Kasey Chambers)
2010 CMAA Awards APRA Song of the Year (Little Bird)
2010 CMAA Awards Single of the Year (Little Bird)
2010 CMAA Awards Vocal Collaboration Of The Year
2011 ARIA Awards Best Country Album (Little Bird)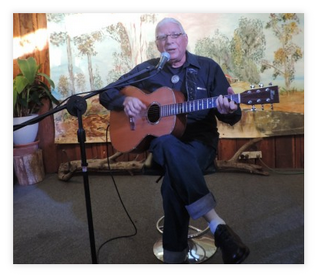 JACK PLEDGE
Jack Pledge was born in Illinois, USA (near Springfield). His father was a US Air Force Officer and young Jack was raised at various locations. After finishing primary school at Mount Sacred Heart, he then went to Central Catholic High where I first became interested in music singing in the choir and taking up guitar after being inspired by his Religion and English teacher.
By the time Jack finished High School he could play 'Red River Valley'. He was influenced with the Popular Folk acts of the 1960's – namely 'Peter Paul and Mary, the New Christie Minstrels, The Brothers Four. He discovered 'The Beatles' and then Country Rock. It was around this time that Jack started writing songs – mainly because he either couldn't learn, or couldn't remember the covers he admired.
During the mid-1970's he recorded at an 8 track studio in Hamilton, Ontario called 'Penton Place'. The four tracks he recorded were 'There's Something Happening With Our Love', Cash on the Barrelhead (later recorded by Lee Brittan in Sydney), It Must Be Love and Love Me Tonight – which were all his own work. He released the tracks on his own label 'Pressed Lemon Wax Records.
Throughout his career he has shared the stage with many great artists – Canadian Jerry Palmer, Gary Black, Heather Haige and had the rare oppurtinity to appear on stage with Charlie Pride and Farron Young at separate occasions.
Although he rarely play competitive music – he did enter a South East Queensland TSA song contest, and took first place in the Gospel category with his song 'The Seeker' and third in another category with 'Where Are You Going To Sleep Tonight'.
There are many highlights of his career:- Playing the Anne Conway Shows at Grace Brothers in Tamworth for 15 years, play the Mildura Festival with his band for several years. Working on Dunk Island, also playing with Farron Young and Charlie Pride were certainly highlights, but most of the real highlights of Jack's career have been making great music in smoky old barrooms with great but obscure players; the sorts of experiences that make me keep on coming back for more.
Releasing albums like: 'Going South' and 'An Unsuccessful Outlaw', Jack's latest offering was completed last year 'Me and My Guitar'. Today Jack is still busy performing live in Texas.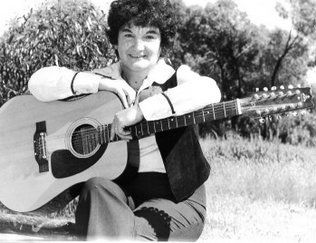 OLIVE BICE
Born in Eaglehawk (Bendigo), Victoria on June 9th 1939
At an early age she learnt to play the mandolin, so right from the very start, Olive was musical minded.
In her early years Olive Bice was heavely influenced by some of our Country greats:- shirley Thoms, June Holms and Patsy Cline. Her career actually began after her appearance on Dick Cranbornes 3DB Hillbilly hour during the 1950's, which was a radio show.
Her first recording was with Colin James - a song titled: Gentle On My Mind on the W & G Label in 1976. The following year (1977) Olive took out 'Best Yodeller' at the Portland Festival singing 'She Taught Me To Yodel'. She was also the winner of 'Battle Of Indies' (Independant Labels) over radio - Listeners Vote.
In 1981 Olive toured with Reg Poole, two years later she was touring with Buddy Western touring for 11 months through the Eastern States and Northern Territory. On these early shows, Olive's son Richard started out as a drummer at the age of 10. In fact all her children were in the early shows.
It was after her tour with Weston, Olive, her son Richard and daughter Andrea toured with Rick & Thel Carey in 1986 through southern western Australia, then took out their own show touring Australia.
By this time she has worked with many in the industry, including Chad Morgan, Jimmy Little, Barry Thornton, Slim Dusty, Rocky Page, Hawking Brothers and the Howie Brothers just to name a few.
Olive's husband William (as he is known Bill), had entered a song into this year's (2013), Tamworth Songwriter's Association titled 'Keeper Of The Gates' written by Bill with arrangement by their son Leigh Bice.
Olive's fans have crowd her 'Bendigo's Queen of Country Music' and had often been referred to as the 'Australia's Queen of Country Music', Victoria's Queen of Country Music and also the Big 'O' of Country Music - whatever the title, it is plan to see that Olive is well loved and respected by her fans., as one of the ladies of Australia's Country Music.
Like many before her, Olive had helped to put the careers of others on the road. One such artist was 'James Scott' who Olive and her son Richard had given guidance to - and Richard Olive became his producer.
Olive is an all round musician - playing rythem and bass guitar and drums. In 2011 Olive won a TSA Award for Gospel song of the year with 'Our Angels' (co-written by D. Lehmann) - a song about the 2009 Black Saturday bishfires which ravaged towards her street in Bendigo
Contact: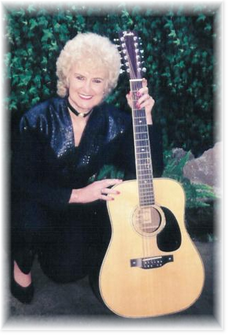 FLOREENA FORBES
'Bendigo's Yodelling Sweetheart'
Floreena Forbes, the youngest of three children to Robert and Olive Jean (Radford) Henderson, was born on September 19th Bendigo, Victoria.
Her love for country music came about at a young age, when her parents would take the family on fishing trips, camping alongside the Murray River. Her father would play the button accordion and mouth organ to popular songs of the day, and Floreena and her siblings would sing.
As a young girl, she wanted to learn to play guitar, and at a time with very little money about, she would borrow a friend's guitar.
Divorced with 2 daughters, Floreena married her second husband Wal Forbes in 1956 and once again, settled into a family life, although Country Music was calling. It was in 1965, Floreena bought her first guitar however, raising two daughters money again was in short supply to pay for music lessons. An arrangement was made with her music teacher – he would teach her music, if she would hair-dress his wife's hair as payment.
Upgrading to a 12 string Takamine – Floreena was finally doing what she loved singing Country Music. She was introduced to local country music singer Snowy Jenson who would later introduce Floreena to Olive Bice. After a few shows around Bendigo, Floreena was in the position for further her career in Country Music.
In 1977 Floreena Forbes formed her first Country Band 'Tumbleweed', in Bendigo, Victoria. There were several changes to the Tumbleweed band over the years, each change bringing a different sound while still retaining the sound that made the band so popular.
It was in 1979 'The Bendigo Country Music Club was established with Olive Bice being President Wally Forbes as Vice-President and Anne Conway as Secretary Floreena Forbes Assistant Secretary & Publicity Officer John Nadort Treasurer. There were two outstanding concerts held by the Bendigo Country Music Club – Local Country & Western Spectacular' which gave local talent a chance to be heard on stage.
While still performing with her band 'Tumbleweed' , Floreena also became part of 'Cream of Country' in 1980 with Olive Bice, Ellen Lee Osterfield and Lyne Golding. The four ladies of Country would mainly perform around the Bendigo area where they became popular.
1982 – Floreena & her husband Wal was invited to Tamworth where she performed throughout the Festival & at the Coca Cola Park (walk-up artist), Woolworths Shopping Centre and with Olive Bice.
In 1991 when the 'Bootscootin' craze had it, Floreena and her partner Robert began teaching bootscootin' and travelled each week to many Country venues including:-Murrey Downs, Balranald,Toolybuc, Barooga ,RichRiver, Bendigo Just to name a few.
Floreena became a presenter of Country Music on radio station Triple C Fm, she would leave after 12 years, she joined Phoenix FM in 1997, becoming a foundation member, Floreena has been a presenter at Phoenix FM ever since promoting all Country and Bluegrass Music with Australian Country Music and its history her favourite. In 2010 Floreena introduced a new segment to her Country Music program 'Pioneers of Australian and American Country Music' where she interviews Country Music Historian Jack Paten about the Pioneers who helped shape Country Music.
She started the 'Pioneers' program, so that people will remember those who helped shape Country Music.
Over the years Floreena Forbes has been actively involved in organising and participating in successful fundraisers for many charitable organisations including:- events for cancer research, Salvation Army, RSPCA and events to help raise money for the elderly – and today continues to do so.
One event for the Salvation Army – organsers had to refuse any further entry to the Tumbleweed Charity Show due to its popularity, for the venue was becoming over crowded, this was pleasing result for the charity.
In 2002, Floreena teamed up with Olive Bice and Anne Conway to form Bendigo's Three Country Diva's – putting on shows around Bendigo raising money for various charities. Floreena continues organising and partaking in various charities.
In 2006 she formed a Bluegrass Band 'BBB' (Bendigo Bluegrass Band), members were:- Floreena Forbes (Lead vocals & Rythum Guitar), Geoff Morris (Vocals and Harmony), Sue Webb (Mandolin, Harmonica), Roy Webb (Guitar & Harmony), Chris Ryan (Banjo), Tony Ryan (Dobro), Finn Mathews (Slap Bass), Penelope Somerville (Fiddle & Harmony).
An American born country artist Doug Bruce was introduced to Floreena, when he first came to settle in Bendigo, Floreena would interview him on radio along with many other Country artists. It was Doug Bruce who produced Floreena Forbes latest CD. Floreena has helped a lot of artists through the years including Cameron Mason during the 1980's.through the Bendigo Country Music Club
Releasing her latest album 'For The Good Times' was her way of thanking her fans for their support of the past 45 years.
FLOREENA FORBES

Time Line:
1966 - Started performing Country Music around Bendigo.
1977 - Tumbleweed is formed
1979 - Bendigo Country Music Club (Floreena Forbes Assistant Secretary & Publicity Officer)
1981 - Wandong Country Music Festival with the Tumbleweed Band & Participating in a Dolly Parton Contest
1980 - Cream of Country (Group) is formed
1986 - CD 'Floreena' Recorded at "Ramic Studio" Wangaratta
1987 - CD 'Country Favourites' Recorded at "Canyon Audio" Wangaratta
2002 - Bendigo's Three Country Diva's (Floreena Forbes, Olive Bice Anne Conway)
2002-Outstanding Contribution to 89.5 Triple C Fm
2006 - Foundation Member of 106.7 Phoenix FM
2006 - Formed Bendigo's Triple B Blue Grass Band – (BBB)
2008 - Horsham Country Music Festival performing Solo & as "Dolly Parton"
2008 - Appreciation Award from Council – (Charitable work)
2011 - County Round-up Appreciation – (Charity work)
2013 - Latest CD 'For The Good Times' -- recorded by shoe fly studio
2013- Horsham Country Music Festival-Award "Most Popular Busker"
2014 - Fundraiseing Concert with Bendigo's "2 Country Music Divas Floreena Forbes & Oive Bice & Other Artists for the Australian Niemann Pick Foundation " Raised ($3008)
2015 -
Fundraiseing Concert with Bendigo's "2 Country Music Divas Floreena Forbes & Oive Bice & Other Artists for the Australian Niemann Pick Foundation " Raised ($2190)
2016 - Fundraiseing Concert with Bendigo's "2 Country Music Divas Floreena Forbes & Oive Bice & Other Artists for the Australian Niemann Pick Foundation " Raised ($2700")
2017 - Inducted into the "Tamworth Country Music Broadcasters Hall of Fame"
2018-
2014 Fundraiseing Concert with Bendigo's "2 Country Music Divas Floreena Forbes & Oive Bice & Other Artists for the Australian Niemann Pick Foundation " Raised ($2620)
2018 - Recieved The "John Toomy Award" for Services to Country Music from the "Mal Norton Entertainment Services"
2018 -
Fundraiseing Concert with Bendigo's "2 Country Music Divas Floreena Forbes & Oive Bice & Other Artists for the Australian Niemann Pick Foundation " Raised ($5538.50)
2019 -
Fundraiseing Concert with Bendigo's "2 Country Music Divas Floreena Forbes & Oive Bice & Other Artists for the Australian Niemann Pick Foundation " Raised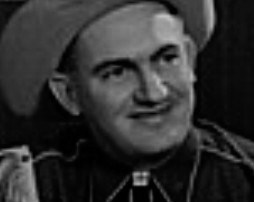 ATHOL McCOY 1925 - 1996
Athol's Strong Country Voice earned him lasting fame in his home state for songs like "New Tassie Waltz and "Tassie Tears" before moving to the mainland in Melbourne,he won his heat of the Amateur Hour in 1950 and recorded for EMI.
Athol toured with Noel Georges "Wild West Show" Reg Lindsay and "Ric & Thel Show" befor taking out his own show in 1961
In 1996 he toured Australia with Tex Morton as "The Mortons" 7 McCoys" Athol then recorded for RCA and Hadley and toured again in 1969 and in 1972,after which he retired to Bega playing local gigs and occasional special performances
Australasian Country Music Roll Of Renknown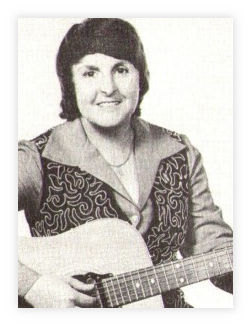 DESREE ILONA CRAWFORD
Desree Ilona Crawford was born in Bundaberg, Queensland on January 4th 1945. It was even at a young age Crawford was entertaining. At the age of 4 she joined other family members as a member of The Melody Kids on Radio 4BU, Bundaberg.
Singing a yodelling at a young age, she taught herself to play guitar at the age of 11. Her mother who also was musical minded would further show her more chords. Desree Ilona Crawford also learnt classical music on piano from the age of 6.
During WWII her father (a bomber pilot) was posted at Amberley, where the family moved and continued entertaining at Poultry Shows, Concert parties, Police Club Fundraisers. Performing part of the Amberley Entertainers (concert parties), raised monies for various charities, fund-raiser for Spastic Children's TV Marathon and Miss Australia Contest.
The Bee Gees had worked on one of Crawford's Town Hall Shows, when they recorded 'My Old Man's A Dustman' which was doing well on TV. Desree Ilona Crawford would also train youngsters 'Amberley Twisters' to dance on TV, when a new dance craze came out on the Charts. Doing solo, she was also part of 'We Three' where she teamed up with her Mother and Brother Donny. She would also work Gerry Gibson Tonight Warana Festival TV Show. Soon as Crawford left high school, she worked in Clubs and Hotels across Brisbane and Ipswich and then further afield eventually ending up in Melbourne.
Already a professional singing since age 4, Desree did enter one talent quest 'Walton's Five Star Radio talent quest and came second singing Lover's Hill on guitar. She was beaten by a tenor from Bundaberg 'Donald Shanks' who went on becoming an international Opera singer.
REG POOLE
In 1966 Desree married, however her entertaining continued. She would be working 6 nights a week in cabaret, Police Balls, RAAF Balls and sang with old time dance bands.
Her first single was recorded in 1970 for the Dayman's Sunshine Label (Festival) titles 'Mama Sang A Song / Washed My Face In The Morning Dew'. It was backed by an 8 piece Country Music Show Group 'Desree Crawford & The High Chapparalls Country Music Group. It immediately hit the Top 30 in Brisbane.
Awards / Accolades:
Please note: There are many more Accolades to Desree Ilona Crawford.
Desree's Show Group started in Melbourne – supposed to have been support act for the 'Platters' who never bothered turning up – so the Group scored a 6 month contract playing floor shows each Saturday night. They also supported Roy Orbison and were either supporting or backing Johnny O'Keefe, Lonnie Lee, Digger Revell, Reg Lindsay, Frankie Johns, Mick Finn, Syliva Delaney, John Williamson, Slim Whitman (on his Australian tour)
Another single came about in 1971 'Letter To Santa / Mistletoe Kiss' this also made it in the Top 30 of Brisbane Charts. However her first solo and independent single was in 1976.
Desree's first LP album came in 1978 'Rodeo Queen'. It was recorded in Dubbo by Ken Cameron 'CM. Records' and produced by Ken Cameron and Lindsay Butler. The album sold exceptionally well especially on the rodeo circuit. It included Desree's first song she ever wrote 'Pathway of Sun'.
Her highlights of her career include:-
· Having the opportunity to co-write with Australian and American songwriters
· Backing for Johnny Farnham when 'Sadie' was on the Charts
· Backing Jamie & Derek Redfern – (when they were still in Primary School)
· Grateful for the opportitunies to work Anne Conway's Grace Bros. Shows each year.
· Olive Bice – who gave her the opportunity of keeping her career alive
Her last recording was Gospel CD 'He Will Never Let You Down' containing 15 tracks – with the title song written by Olive Bice, and was released on Anne Conway's Birubi label. Desree is currently working on a new album to commemorate 43 years of entertaining.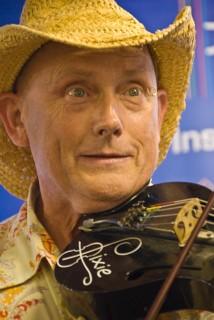 PIXIE JENKINS
Pixie Jenkins was born Paul Jenkins – in Launceston, Tasmania on March 21st 1957.
His first studio experience was with Rick& Thel Carey on their recording 'Doing Things Together' released on the Hadley label in 1977. In 1979, Paul was invited to go on tour with The Buddy Williams show. Buddy took his show to the Aboriginal people and beyond, taking young Paul under his wing. Paul speaks very highly of Buddy Williams, as he became a father figure.
It was around 1983, he teamed up with Rock'n'Roll singer Digger Revell, also became a supporting act for Cher and Charlie Pride. He later joined 'The Hired Hands' which turned out to be winner as Pixie was awarded his first Golden Guitar in 1984 as part of the group. A couple more Golden Guitars came his way in 1985 and 1986 when he was part of Bullamakanka.
It is unknown when Paul adopted the stagename 'Pixie', however he is better known this stage name and quite a fitting name.
In 1989, Pixie joined forces with John Williamson a relationship that lasted 5 years. He would become an integral part of Williamson's recordings and live shows. Williamson had stated that Pixie was the best fiddle player Australia's produced.
It was 1995 he went out on his own with his fiddle playing madness. He truly is a tressure of the Music Industry.
Over the years Pixie has recorded with many artists and also as a support act for the likes of Buddy Williams, Chad Morgan, John Williamson and international acts:- Cher, Bob Dylan, Charlie Pride and many more.
1992 – Inducted into Hands of Fame
1993 – Golden Guitar for Instrumental of the Year
1994 – Golden Guitar for instrumental of the Year
1994 – Life Time Achievement Award
2001 – Best Instrumental Award – Victorian Country Music Awards.........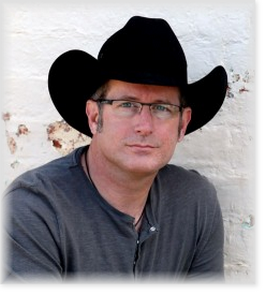 DOUG BRUCE

Doug was awarded 2009 Best Male Vocalist in the well regarded Tamworth Independent Artists Recognition Awards (TIARAs). Doug also took out Best Contemporary Song (for
I Know About Lonesome
) in the Professional section of the Tamworth Songwriters 'Association (TSA) National Songwriting Competition. He was also atop five finalist in the Traditional section (for
Just Three
Minutes). Doug was also a finalist in all six of his nominated categories of the prestigious Victorian & National Country Music Awards in2009, taking out Victorian Male Vocalist, Victorian Album of the Year and the Smoky Dawson Best Independent Release (for the album, All I Need)in the National section
The album has reaped significant praise in the country music and main stream press. Described as producing 'a fabulous album' and 'quite exceptional', Doughas been described as having "a simply awesome talent to wring emotion from words and music" (Deborah Minter, Capital News, December 2008) and one who has "embraced the toe-tapping Australian beats to complement his smoky, Deep South voice" (Sarah Warne, Sunday Herald Sun, February 8, 2009). The first single, and title track, released from the album, "All I Need" was inthe Australian Hot Country Top 50 for 15weeks, reaching number20. A music video for his second single, What I'm Drinkin' About, was released in May 2009 to the Australian Country Music Channel and available worldwide on YouTube (www.youtube.com/watch?v=xqyju1io814).The song was 9 weeks on the top twenty of the Kix Country Top 20Countdown (Australia) – 7 weeks at top ten, and is still rising in the European Country Music Association radio airplay charts(including number 1 in Ireland and Austria). Just Three Minutes is the third single released to radio (Hillcrest 50 and NFS 135) and has debuted at 55 in its first week in the ECMA Top 100 andis currently at No. 4. A second video and fourth song to radio, I Know About Lonesome, has just been released. A new album is in production and due for release August 2010.
Born in Aubrey,Texas, Doug moved to Bendigo five years ago with his Australian wife and their young son ( we now have two!) . Whilst a relative newcomer to front of stage, Doug's music career began almost 20 yearsago,performing primarily as a drummer and backing vocalist for numerous bands in Texas. He also spent time in Nashville performing and doing studio session work as a drummer and backing vocalist. This afforded him many amazing opportunities,with highlights including live performances and radio broadcasts on The Grand Ole Opry with Grammy nominated singer songwriter and 2008 European CMA MaleVocalist, Billy Yates.
Doug Bruce and The Tailgaters performed around Australia and in the US in 2009and set to perform in Europe in 2010. So much more is to come for this artist and band…get on the bandwagon and hang on! www.facebook.com/doug.bruce1 DOUG BRUCE & THE TAILGATERS
Texas-born singer/songwriter Doug Bruce now resides in Bendigo, Australia. With his band, The Tailgaters, he has been impressing die-hard country fans and new converts alike with his rich voice and natural affinity for the southern country sound.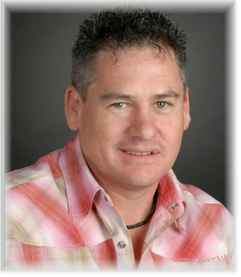 CAMERON MASON
Cameron Mason was born in Bendigo, Victoria, May 30th 1964.
Cameron has been writing and performing Country Music from his early teens. Rarely a day went by when Country Music wasn't coming from the Mason family home. Much of Cameron's influence coming from his musician Grandfather and also his father's love of Country Music.
At an early age Cameron became a big fan of legends such as Merle Haggard, Hank Williams, Charlie Pride, Buck Owens, Johnny Cash, Don Williams, and Waylon and Willie.
At the age of 9, he learnt to play the guitar and sang, and it wasn't long before he started writing his own songs. Around the age of 12, Cameron along with other family members started their first band. Cameron still performs many tunes from his heroes along with a few original tunes as well. At the age of eighteen Cameron was signed to Nashville publishing Company "Loose-ends Music". In much later years signing with Warner-Chappell Music Australia.
At the age of 28 (1992) Cameron became lead singer of a Sydney based Rock Band who called themselves 'That's Right'. Other members of the band included: Jeff Stevenson, Leigh Randall, Andy Judd, Noel Funicello and Greg Morris. They would play constantly as a support for the likes of John Paul Young, Goanna, and international acts Hot Chocolate.
It would have been about 12 months before Cameron realized that Country Music was his love, and he left the group and headed back to Victoria to pursue a career in Country Music. The Rock Band, which Cameron was with, saw a few changes of musicians, and discontinued in 1994.
Cameron became a finalist in Tamworth's Starmaker Quest in 1993 and again in 1995. In the late 1990's Cameron had formed the popular band "Runaway Train" winning Tamworth's battle of the bands competition followed up by a Golden Guitar nomination for best group in 1998. Cameron's original song "What am I Gonna Do?" gained high rotation on Country radio and film clip on CMC.
Over the years Cameron has appeared on stages all around Australia from Burnie in Tasmania to Cooktown in Queensland's far north with a vast array of Country Stars such as Chad Morgan, Reg Poole, Jimmy Little, Troy Cassar-Daley, Beccy Cole, Adam Harvey, John Williamson, Lee Kernaghan, and Slim Dusty.
Cameron now appears on a regular basis at Clubs, Festivals and stages Australia wide following his dream as a Country performer. Whether it be solo or with his band Cameron Mason is one act not to be missed.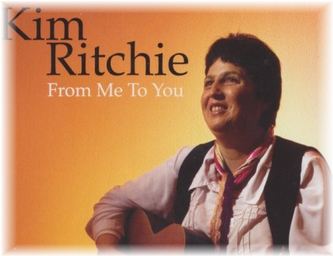 Kim Ritchie :
Kim is a Country and Variety singer with a difference. She came into the world blind, Kim says the love of music and performing has given her a clear view of the world around her.
Music has been a big & important part of Kim's life since her early years. She grew up on a farm just out of Pyramid Hill,
She learned the guitar at the age of eight, her growing up years was no different in the way of learning, but because of her blindness she learned Braille when she was young and that was her way of jotting things down. Kim also used a tape recorder to record things in order to help her learn. For example, if she was writing a story, she would sometimes say on to the tape what she wanted to and write it in braille, KIm learned to read Brail while playing the piano and didn't feel she was able to read with one hand and play the piano with the other.
Even though she was blind, learning wasn't much different for her as any other child. She still had to listen and retain things but would do that more so than a sighted person because she relied on her hearing
When Kim was only 11, she began her performing career by entering talent quests, having won two grand finals by the time she turned 15years of age
Kim learned to play music by ear. She had to learn to read braille music but decided it wasn't for her, besides that, it would have been hard for her to read the music and play the guitar she decided that reading with one hand and playing with the other wasn't her cup of tea Kim
Not many of her friends were interested in music in terms of playing instruments but through them, she acquired a taste for modern music, more 70's and 80's but modern as far as she was concerned. All instruments were learned by ear then playing what she heard and keeping it in the memory bank.
Kim sang in a local church group as well as local concerts prior to entering talent quests. And sang at parties as she got older (when she was in my teens).
Her mother played guitar with her (she more or less taught kium how to play). Her father, although he had a lovely singing voice, introduced Kim to Slim Dusty records and that was his contribution to the music side of things.
Kim was 20 years old when she got her first guide dog. Her name was Kylie and was a lovely golden Labrador.
Kim Ritchie has worked with worked with Craig Giles. Reg Poole, Mike Keryn and Rod Coe (two members of Slim Dusty's band), Dennis Marsh and Joy Adams from New Zealand. I has been a regular performer at the Mildura Country Music Festival for the past five years and met and worked with some very known artists
When she was living in New Zealand, Kim had a band for about three years called Sighted Company but has worked as a solo artist as well as being in the band.
Since being back in Australia, she has worked as a solo artist with her guitar and backing tracks, although at festivals, she plays with backing bands and loves every minute of it.
Kim is happy to go as far with her music as it will take her. She is in no hurry to get anywhere in particular. I just enjoy doing what she does.
Kim is a regular performer at many country music festivals throughout Central and North Western Victoria, Southern New South Wales and South Australia, where she captivates her audiences with a mixture of country, gospel, rock and even a touch of comedy now and then…
Kim has four albums under her belt. Her first CD Ambition, a sixteen-track album of her favourite country songs was recorded in New Zealand and released in 2004. 2010 saw the release of From Me To You, a twelve-track album recorded in Bendigo by internationally recognised country music artist Doug Bruce, followed by her seventeen-track 2013 release, The Power of Love. Now 2014 sees Kim team up with Doug once again for A Different Side of Me, a seventeen-track album featuring her favourite rock 'n' roll songs.
Kim currently resides in Bendigo where she is ably assisted, John and secondly (or perhaps the other way around) by her beautiful black Labrador Seeing Eye dog,
It's an absolute delight to watch Kim perform; music is her life. This becomes obvious when you attend one of her shows, you'll see the pleasure she gets from sharing her music with others.
Kims Words say
"God didn't give me sight, but he gave me the ability to sing and play guitar and that obviously makes up for what I haven't got"
· Enquiries
Phone: (03) 5443 7453 or 0458 474363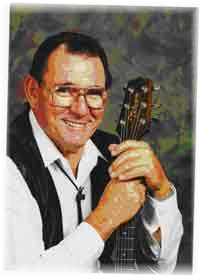 PETER SHEAHAN
Peter Sheahan begain his career in 1981 – at the popular Bendigo Country Music Club.
He has worked in many pubs, Clubs and private parties along the way. Like many other artists from the Bendigo area, Peter has worked hard raising monies for various charities.
Peter has ventured up to Tamworth during the famous Country Music Festival which is held every January – where he would busk in the earlier days on Peel Street. Years later having his own showcase where he would have at least thirteen artist on his show – including a very young Adam Brand, who became one of Australia's popular Country Music artist.
While his connection with Tamworth for 10 years, he became President of the Victorian Branch of the TSA (Tamworth Songwriters Association), he also has compared some of the TSA showcases.
In 1999 he was awarded 1st place in the Children's song of the year for 'Where's My Teddy' and Gospel song of the Year for 'Hold The Ladder Lord' at Tamworth TSA Awards It was in 2003, Peter was thrilled to receive the Peel Street Lions Club Tamworth Committee Award.
Three years later (2006), Peter wrote 2 songs for the 50th Anniversary of the famous Fergie Tractors and the Wentworth Floods. 'The Little Grey Fergies' that saved the town by building a levy banks around the town. He recorded the songs and also performed them at the Wentworth Celebrations in July 2006. The songs were 'I Now Own A Fergie' and 'The Fergie T.E.A.'
In August 2012, Peter was invited to write a song regarding the Serpentine Creek at Durham Ox. His song was accepted and he performed the song at the opening of the Fishing Platform at Durham. It's also believed that the song will be preserved in the Archives at Loddon Shire, Victoria.
Peter has recorded at least 10 Albums, which are currently available.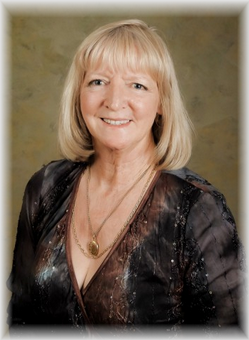 Cheryl Lethlean
Cheryl Lethlean was born in Castlemaine, Victoria on October 21st 1945.
Her early involvement in music, can be traced back to singing at Sunday school and School Concerts. Then when she was a teenager, where she would sing in her brothers band 'The Castel Men' at social functions, although she never really pursued a career at that time.
At the age of 20, she married her husband Richard and has two daughters; Cindy and Donna.
It was in 1990 she bought her first guitar and it was a long process of being self-taught that she eventually mastered. She began to write her own songs.
Her first album 'Destiny' was recorded at Birubi Studios in Tongala in 1994. It was believed to have been well received and with frequent airplay, she was invited to be a featured artist on the Birubri Showcase at the Tamworth and Mildura Festivals.
This secured her work with various other showcases:- including Anne Conway's Grace Brother's Shows, Desree Illona Crawford Club Shows and Craig Byrne's shows.
Cheryl has also been a finalist in the Bendigo Country Talent Club Songwriters contest several times with: I Won't Be Chasing Rainbows Anymore (1992), Trade For Fame (1994), and Just For Tonight (1995). She took out third place the TSA's Victoria Division songwriter's competition in 1994 and became a finialist in Tamworth that same year with 'Wild Bush Kids'.
Over the years she has written many of her own songs, and produced 9 albums including:
Although she performs solo, she once again joins her brother (and his wife) and become the harmony trio 'Campaspe Country'.
Over the years she has written many of her own songs, and produced 9 albums including:
1. Destiny
2. Sharing My Dreams
3. Songs We'll Remember
4. Pot Pourri
5. About Us (All Australians)
6. Billy's Bones
7. Hands Of Time
8. Take Five
9. Down The Track
REG POOLE
Born in Rushworth, Victoria on September 24th 1944.
It's believed that Reg was given his first guitar at the age of 11, and oncehe had mastered the chords he performed in local concerts and other functions.
Later he would form his own dance band during the 1960's.
In 1972, Reg recorded a custom produced single at 3SR Studios in Shepparton, titled'Down In The Goulburn Valley 'selling 1000 copies over the counter of a radio staton in Shepparton.
The recording attracted wide attention which finally saw Reg sign with the W&G label in 1973. It was from his first session with the label, came what would be his biggest hit,which won him his first golden guitar in 1974 as the best new Australian talent.
The song was 'The Australian Country Hall of Fame, which even today it is still requested.His first album was then released 'Country Music At It's Best' although it was not a success due to the label's considerable inactivity. Reg, who's career was juststarting thought his recording days were numbered.
In 1976 while in Tamworth, Reg met song-writer gone historian Eric Watson which was turning point for the singer. Eric was looking for an artist to start off his own recording label 'Selection Records' and Reg became the first to sign withthe small label. It was a successful union for almost 30 years. Reg began releasing Rodeo and Truckie albums which were extremely popular. He would also appear on many compilation albums with other artist including:- Barry Thornton, Terry Gordon,
Reg began releasing Rodeo and Truckie albums which were extremely popular. He would also appear on many compilation albums with
other artist including:- Barry Thornton, Terry Gordon, Johnn Heap and Gordon Parsons to name a few.His first release for the Selection
was 'The Long Paddock' in 1977, the following Year (1978) came another album 'Goin' Rodeoin'. During the Tamworth Festival of 1979,
He was inducted into the Country Music Hands of Fame
In 1980 a single titled 'The Warrumbungle Mare' was nominated in the 1981 Country Music Awards, Reg walked away with the
Australasian Heritage Award- it was his second golden guitar. In 1980 an Australian wide popularity poll was taken and Reg was voted
into sixth place as Australia's most popular artist and into fifteenth position on a world scale.
During the 1990's he teamed up with Terry Gordon and Owen Blundell and formed the Gun-Barrel Highwaymen taking their successful
show across the nation. Each year in Tamworth the three artist would team up for daily shows throughout the festival. In1994 he was
elected to the board of Country Music Association of Australia only to be sacked the following year. -
(Reg Poole states this on his own website)
On Australian, 2006, he was award the Order of Australia Medal (OAM) for his continious contribution
to the Music Industry and the community. It was that same year he became the 33rd inductee to be elevated
to the Roll of Renown among other greats include, Tex Morton,Buddy Williams, Smoky Dawson, Shirly Thomas and Chad Morgan.
Reg Poole is known as 'The Gentle Giant' of Australian Country Music. He has many accolades/awards to his credit.
2007 - Male Vocalist - Stan Coster Memorial Bush Ballad Awards, Bungendore
2007 - Male Artist Of The Year - ACRA (Australia Country Recording Artist)
2007 - Bush Ballad Of The Year - ACRA
2007 - Male Album Of The Year - ACRA
2007 - Country Ballad Of The Year - TSA
2007 - Victorian Album Of The Year ' For The Love Of My Country'
2007 - Victorian Male Vocalist
2007 - Bush Ballad Of The Year - National Section
1999 - Victorian Entertainer Of The Year - VIC CM Awards
1998 - Album Of The Year Award - Bungendore Bush Ballad Awards
1985 - Most Popular Male Vocalist In The Southern Hemisphere
1985 - Gold Guitar Heritage Award - 'When The Big Mobs Come To Bourke'
1981 - Gold Guitar Heritage Award - 'The Warrumbungle Mare'
________________________________________________________________________________________________________________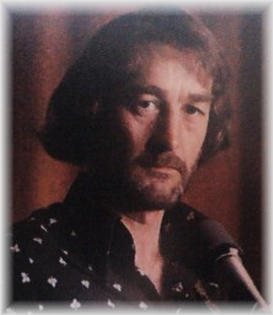 GENE BRADLEY FISK
Gene was born on August 20th 1935, Colac, Victoria.
His interest in music began when he joined a Banjo Club at the age of 11 where he began playing concerts and radio shows.
After serving his country for 15 years (from 1951) in the RAAF - in 1960 he began a broadcasting career while stationed in Malaysia and after his exit from service he became Disc Jockey on commercial radio 3HA Hamilton, Victoria in 1967. Gene also worked at community stations including Bedigo's 3CCC.
In 1959 Gene Bradley Fisk started playing in Rock and Roll bands which lasted 18 years. In this time he has released 4 Rock 'n' Roll singles on the Yankee Candy label. When he started playing and singing Country Music from 1977, he went solo, and later appear in backing bands including:- Stoney Creek, The Lamington Brothers, Gunslinger and 'The Outlaws'.
His first country release was a single in 1979 'Bushranger' backed with 'Ballad of Ronald Ryan' this was followed by another single in 1980 'Ain't Gonna Stand In Line' / 'John Lesley'. He recorded his first album in 1981 titled 'Blood of a Rambler'.
In 2011 - he released his latest album 'Up North, Down South, Out West'.
"Gene is still on radio and currently broadcasting his OZ Country show every Tuesday night from 7pm on 88.9 WYNFM and streaming.
http://www.wynfm.org.au/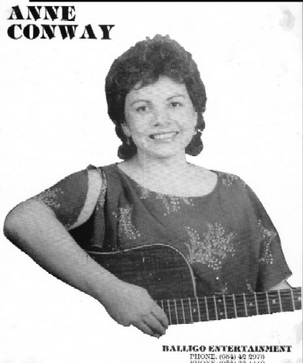 Anne Conway
Popular music and can work with a resident band or is fully self contained with her custom made backing, guitar and sound system. She is finding herself particularly in demand for cultural festivals and the like where she proudly showcases Australian history and culture.
Anne records on the Birubi recording label and currently has three C.D. album's available.
During 2007 Anne performed at many events including Bendigo Easter Fair, Australia Day Events,featured artist at various Country Music Clubs, Senior Citizens Week, NAIDOC Week Events, Dahlia and Arts Festival as well as many private and fundraising occasions.
2008 will be a busy year as even at the start of the year Anne has been booked for several festivals, cultural events, numerous private functions and of course she maintains a heavy schedule of fundraising performances.
Anne has a $20,000,000 public risk policy with "Duck for Cover" which is often apre-requisite for performance at many venues.
Enquiries can be made to Birubi Enterprises
PO Box 16 California Gully 3556
Anne
has had a long and varied career in the Country Music industry. She has traveled through much of Australia performing and also toured New Zealand with an Australian Showcase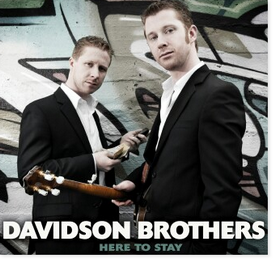 DAVIDSON BROTHERS
The Davidson Brothers, Hamish and Lachlan grew up in rural Victoria.
They were raised in a musical family, where the brothers had been performing from a young age.
The Davidson Brothers released their debut album 'Blue Spruce' in 1999, while they were still in their early teens. This recording was the beginning of what would span into numerous recordings and awards.
The Brothers are graduates of the Australian Country Music College, and in 2003 the won the State Final and were a Runner-Up in the Grand Final of the National University Band Competition, which also saw Hamish win Best Overall Musician.
At the Australian Bluegrass Championships, Lachlan won the Mandolin Championship three times in row from 2008 to 2010. While Hamish won the Fiddling Championship in 2000, and the Banjo Championship in 2009. Together they were recognized as finalists in the Most Outstanding Musician category of the 2010 Melbourne Prize for Music. It is with their dynamic brand of classic bluegrass, they not only in demand in their own country, but in the US and Europe as well.
In recent times, the brothers have toured extensively through Australia and America which included representing Australia at the IBMA's World of Bluegrass in America in 2004 and 2009. They were also invited to present at the 2010 International Bluegrass Awards held in Nashville.
The latest album 'Wanderlust' was released in June 2014 – which contains eleven original compositions, three of which are instrumentals.
AWARDS
GOLDEN GUITAR AWARDS
Australian Country Music Awards
2012 - Instrumental, OMFG (2012)
2010 - Instrumental, Fox on the Freeway (2010)
2009 - Instrumental, Left Hand Drive (2009)
TREV AWARDS (Tertiary Recreation and Entertainment Victoria Awards)
2003 - Best New Act
National University Band Competition
2003 - Best Overall Musician (Hamish)
2003 - National Final (Runner Up)
2003 - Victorian State Final
2003 - RMIT, Final
2003 - RMIT, Heat 1
Tamworth Country Music Festival (NSW)
2003 - Open Aristocrat Country Entertainer of the Year
2002 - K-Mart Jazzer Smith Memorial Talent Quest, Open Division
1999 - Junior Aristocrat Country Entertainer of the Year
1999 - Junior Golden Swaggie (with Ailsa Davidson)
Whittlesea Country Music Festival (VIC)
Overall Winner - Whittlesea Country Music Talent Search (2003)
Victorian Country Music Awards
2012 - Bluegrass, Rather Be Gone
2012 - Best Instrumental, OMFG
2011 - Bluegrass, Breakin' New Ground (w Kristy Cox)
2011 - Duet, Breakin' New Ground (w Kristy Cox)
2010 - Bluegrass, Born to Play
2009 - Victorian Group, City Life
2009 - Victorian Entertainer of the Year
2009 - Best Instrumental, Left Hand Drive
2009 - Bluegrass, Just To Get To You
2007 - Bluegrass, Don't Turn Me Down
Golden Fiddle Awards (Tamworth, NSW)
2010 - Best Band Featuring a Fiddler
2008 - Best Composition, Tipsy Gypsy
2008 - Best Band Featuring a Fiddler
2007 - Best Composition, Mojo (Judges Commendation)
2006 - Best Band Featuring a Fiddler
TIARA AWARDS
Australian Independent Country Music Awards
2012 - Album of the Year, HERE TO STAY
2012 - Group, My Heart Can't Believe My Eyes
2012 - Best Instrumental, OMFG
2009 - Best Instrumental, Left Hand Drive
2007 - Album of the Year, RAISED ON THE ROAD
2007 - Best Instrumental, Scrub Turkey
2005 - Best Instrumental, Hunter Valley Breakdown
2004 - Best Instrumental, Orange Blossom Special
Melbourne Prize for Music
2010 - Most Outstanding Musicians (Top Ten)
THE SOUTHERN STARS
Australian Independent Country Music Awards
2010 - Group of the Year, Born to Play
Australian Bluegrass Championships (Tamworth, NSW)
2010 - MANDOLIN Champion (Lachlan)
2009 - MANDOLIN Champion (Lachlan)
2009 - BANJO Champion (Hamish)
2008 - MANDOLIN Champion (Lachlan)
2008 - Horizon Award / Best Overall (Hamish)
2000 - FIDDLE Champion (Hamish)
27th Annual Smokey Mountain Fiddlers Convention
Loudon, Tennessee, USA
2009 - Bluegrass Band Competition (Runner Up)
NESCAFE BIG BREAK (Australia & New Zealand)
2005 – Winner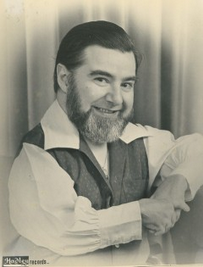 COLIN JAMES
Around 1960/61 Colin started his own Entertainment agency which lasted until 1975.
During the 1960's he wrote two songs for Chad Morgan 'Nobody Else But Little Me' and 'You're Getting Old Son' These two songs Chad still performs today. In 1977 when Chad made an appearance in the Award winning film Newsfront, he sang 'Nobody Else But Little Me' in a very rare footage without the famous 'Sheik' hat. Besides Chad, Colin's songs have also been recorded by many other known artists.
Colin moved to Geelong (Vic), a teams up with Caroline Sleep who was a talented writer in which Colin provided the music and in 1980 they were married. This was the same year (1980), which Colin James signed a recording contract with Tamworth's Hadley Records. Caroline and Colin wrote 'The Man Upstairs' and also collaborated on 'I Tried To Grab 'Er Abbas' both of which were recorded on Colin's first LP for Hadley titled:- 'If I Can Do It, So Can You'. Caroline also wrote songs which were recorded by Reg Poole and Olive Bice.
In 1984, Colin was honored when he was inducted into the Country Music Hands of Fame in Tamworth. One of the highest achievements was being presented with an OAM (Order of Australia Medal) for his continious services to the community.
In 1995 Colin and his 2nd wife Dianne, published and marketed a book 'A Wheelie's Handbook of Australia' it was a travel guide for other 'wheelies'. It was during the 1990's Colin and Dianne set out to tour Australia as the local scene was drying up. He was also recognized for his efforts as a campaigner for the rights of disabled people in 1995, and as a local legend promotion Colin's photo appeared on a $5 phone card.
Over the years he has appeared on various Tv shows:- Good Morning Australia, Getaway, The Great Outdoors and other variety shows. He also appeared on New Faces where he won an Award for his recitation 'If I Can Do It So Can You'. Colin had also been a support act for: Reg Lindsay, Frank Ifield, Slim Dusty and Freddie Fender to name a few.
These days, Colin shares his stories and laughter with listeners homing in on his program at Bendigo radio station, Phoenix FM.
Colin James released his autobiography 'If I Can Do It...' on January 21st 2012,
"Australia's Little Giant of Entertainment"
Colin was born on April 29th 1938, Coleraine, Victoria
At 3 years of age Colin James contracted rheumatic fever which confined him to a wheel chair for the rest
of his life. He sought entertainment by listen to those early radio programs.
His songwriting began at the age of 15 (1953), one of these early songs was recorded by Keith Riordon. The song was 'A Demon Called Love' Keith recorded the song in 1959 as his first single on 'Planet Records'
It was 1958 he started performing in public, and was also part of the group 'Country Club' which also featured the wonderful Olive Bice. He first recorded in 1961 - releasing 'Sleepless Nights' / 'what Is It?' on the Crest label.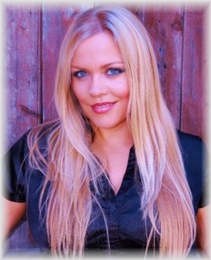 Sandy Dodd
Sandy was introduced to Country Music via her Mother who would sing her to sleep with old favourites like: The Blue Velvet Band,
There's A Bridle Hanging On The Wall, Old Shep and El Paso. Her Father loved classical and big band music of the time and
during the depression he would sing, and Sandy would listen hi smooth polished voice.
On trips to Sydney with the family she would harmonize with her sister while listening to the cassette that was playing. This and growing
up with a piano in the family home helped her to harmonize. She would pick out songs she heard either on cassette or TV and played
them, the theme song for A Country Practise was her favourite to play on piano which she taught herself by ear.
Sandy had violin lessons and recorder, though apart from those, she had no formal training in music. She could never read music, they
she can play piano, guitar, keyboard, tin whistle, mouth-organ and the kazoo.
She spent her younger days in dance lessons and later theatre. After working as dentist assistant and receptionist, she took a break from
the stage to raise a family. In 1999, Sandy re-discovered her passion for music after attending a motivation segment and attended singing lessons. She got an audition that was advertised by a vocal quartet requiring a singer/dancer/harmonist who was pleased with her at first
due to her lack of credentials in music etc.
However it was the first she sang into a microphone and with hands trembling as she stood on the lonely big stage closed her eyes and
sang. The producer listened from the back row of the auditorium and was pleased of what he heard. He asked her to joined his group
'Hot Stuff'. After more singing lessons, it was with a month, Sandy was performing lead and harmony staying with the group two years.
She would also appear in other bands including:- Wild Country, Ron Kingston Duo, The Blue Label Band, Somebody's Daughter and Trigger.
In 2004 she join the group 'Ruckus' a Victorian Country Rock Band where she performed as lead singer. The band toured nationally
and appearing at major festivals. She left the group in 2011. Since then, the journey has lead her to receive recognition including
Best Female Vocalist, Best New Songwriter.
Since going solo, she has had international success with her first 'Burning Memories' which reached No.1 on the European Independent
Music Charts and earned her a nomination for 'Entertainer of the Year' in 2012. Sandy is now gain great success in appearing at
various Country Music Clubs and Festivals namely Horsham, Tooleybuc and Corowa.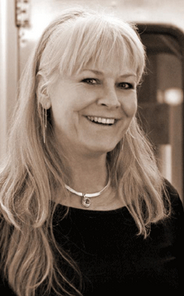 CONNIE KIS ANDERSON
Connie Kis Andersen was born in Denmark, she migrated with her family to Australia when she was two years old.
She began learning the banjo at the age of 8 and by the time she was 11, she had already performed with Australian
Country Music legend Slim Dusty when his show came to her home town of Bourke, NSW.
It was with a degree in Psychology and Economics gained from the University of NSW, Connie worked in Sydney in the
field of Special Education for two years before moving to Perth W.A. where she continued to teach in Education Support.
Around the same time, she began to pursue a career in music, which was her first love.
She performed as the lead singer in several bands, the most current being Kis'n Tel, and AKAKis, an acoustic original duo.
In the past, Andersen's full seven piece band; The Hired Guns came together on special occasions to perform her original
songs from the albums, Gone Wishin' and the award winning Once Again.
Now, she mainly tours solo and on home turf, teams up with well known Perth roots/blues player David Capper for special
acoustic shows promoting her current albums; Connie Kis and Naked Under the Radar.
Connie had been honoured to be the support act for Don McLean, Kasey Chambers, BJ Thomas in Perth, taken her on
press tours in Scandinavia, Europe and numerous radio and solo promotional tours of the USA, including performances at
CMA's Fan in Nashville TN.
In 2006 - Perth, she opened a show for Bobby Cash - an acclaimed Country singer/songwriter from India, who was touring
Australia in support of his latest album 'State of my Heart'. The audiences were pleased with these to polished artists.
A career as a recording artist and top singer, she has had chart action with several of her songs gracing the Australian Country
Tracks Top 40 Hit charts - 3 of them making the Top 5. The same songs also making the APRA 'Song of the Year' List for voting -
a list of the most played songs in Australia by Australian writers for the year of their release.
Connie Kis has been the recipient of multiple awards – both in song writing and as an artist. Highlights include being named
Western Australia's Best Country Female Artist three times, winning the 'Best Independent Country Music Album' for Western
Australia twice, and receiving an Australian TIARA for Female Vocalist. She is a proud member of APRA, ASCAP (Publishing),
NARAS, CMAA, AMA, NSAI & CMA.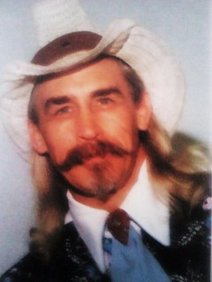 COWBOY BOB PURTELL
Born in west Wyalong on September 10th 1937
In his earlier years Bob was a baker by trade after leaving school, later a laborer and seasonal worker. Around 1959 he moved to Sydney and started a gardening business.
Bob Purtell didn't really start in Country Music until 1969 when he appeared on Bill Kelly's Country Ramblers which lead to his own band. Through the 1970's Cowboy Bob and his band had a good recognition in and around the Sydney's city circuit. He also appeared regularly on Kevin King's Country Sounds at the Crystal Palace Hotel.
His first experience on TV, was on the Reg Lindsay Country Music show, in which he made a total of 9 appearances. He also appeared on the Frank Ifield Tv show.
Bobs first release came in 1975 via ATA Records 'Motivating Day' which earned him his first Golden Guitar in 1976. In 1978 two more singles were released 'Beer Song' / 'Gear Jammers Ball' and 'I Gave Up Good Morning Darling' / 'Basin Street Blues'.
In 1981 Bob's debut album 'Cross Country Cowboy' was released, which featured some great songs including:- Old Black Hat, Ballad of Billy Reed, Cowboy and Trucker's Lullaby.
Two years later he released his 2nd album 'Black Sheep' on the Nev Nicholls label 'Nicholls'n'Dimes' distributed through RCA Records.
Other artists who have helped Bob with his career include: Tommy Mac (comedian), Tim McNamara, Singing Kettles and Heather McKean to name a few.
Cowboy Bob Purtell was inducted into the Hands of Fame in 1988.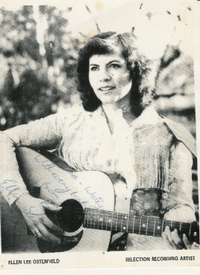 Ellen Lee Osterfield was born in Bendigo in central Victoria.
She started her singing career at the age of 3. It was her parents who loved a variety of music and encouraged her to sing for visitors her unique rendition of "Springtime in the Rockies"! Ellen's father and grandfather both had strong tenor voices and would entertain at the country dances in the old time dance hall in Marong (near Bendigo) when Ellen and her sister were toddlers. It is therefore no surprise a musical career was on the cards!
With country music heavily featured in the record collection Ellen started singing to her favourite tunes. She began guitar lessons at age sixteen and loved playing for family and friends, simultaneously she began writing her own songs. Ellen had her stage debut at age 20 when Smokey Dawson invited her to be part of his Bendigo concert, and she had just turned 21 on stage at the Buddy Williams show also in Bendigo when his show was on tour here. Ellen's father Bill and Buddy were army mates having served overseas together during World War II, and the two families often went on holiday together.
During her early twenties Ellen juggled working at a local supermarket with performing for the very first time on the local circuit with a four piece band. It was during this time she compiled 12of her own original songs and together with her mother and father went to Tamworth NSW to record her first record album. On the release of this album entitled "Ghost town Lady" music was at the forefront of Ellen's life. Work took on a different style for her as she toured the clubs around Victoria and NSW.
On hearing "Ghost town Lady" Australian country music promoter/producer Eric Watson signed Ellen to a recording contract with his label "Selection Records". In 1979 a brand new album called "Outlaw" was released and the same year Ellen was one of the top five artists in the "Best new Talent" section of Tamworth's Golden Guitar awards. It was during this same year Ellen took out the Lachlan Vintage Village awards major prize along with two other awards at the Parkes/Forbes country music festival in NSW.
Selection records re-released Ellen's first custom album "Ghost town Lady" and in 1981 another new album featuring 10 of her own songs was released, the album was entitled: "Runnin' Free".
Numerous radio and television interviews and shows followed and Ellen toured the country promoting her unique style of music.
In 1985 Ellen married and she and her husband Wayne Field (also a musician formerly part of Reg Poole's band The Silver Eagles) set off around Australia as tour coach and four wheel drive hosts. Swapping the footlights for a night sky filled with twinkling Stars and singing around the campfire was a welcome change and inspired many new compositions.
Ellen had longed to travel Australia again ever since she and her family went on a working holiday in the late 1960's early 1970's.
After the passing of Ellen's father Bill ( her biggest fan) life was challenging but with encouragement from her mother and her husband Ellen was back on the local circuit again.
In 1992 Ellen and her husband became resident entertainers on a cruising restaurant operating from the Port of Echuca in Victoria. During this time another album was released featuring songs Ellen had penned about the Mighty Murray river and life on the river in times gone by, the album was called "From me to you".
In 1995 Ellen and Wayne left Echuca and returned home to Bendigo to raise a much longed for family.
The joy of raising her family has meant travelling on the entertainment circuit is no longer on her agenda however Ellen still entertains locally when requested, she particularly enjoys visiting and entertaining the elderly folk in aged care, something that takes her back to when she first started in music.
Although music has always been a huge part of her life Ellen has also been carving a name for herself as a visual artist having drawn since early childhood and painted since age 15 years, she has won numerous awards for her artworks including "Best in show", "People's Choice" and "Highly commended" awards.
Ellen currently resides in a rural property on the outskirts of Bendigo in central Victoria.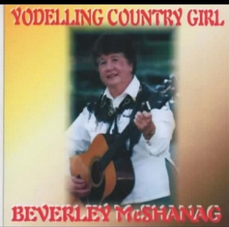 BEVERLEY McSHANAG
She was born Beverley Levin in, Geelong, Victoria.
It was around 1941, the family moved to Maldon because of the War and live an isolated area. When she started school at Maldon, she would ride a bicycle to school each day. There were no houses around although there were people living further in the bush.
On her merry way to school she would sing and yodel – though never at home – until people along the way heard Beverley singing and yodelling and told her mother. At the age of 10, she got a cheap guitar and had a few lessons from a teacher in Maldon.
It was at was at the age of 11, Beverley won 1st place in Dick Fair's 3DB 'Australia's Amateur Hour contest. After this, she started getting offers in Melbourne, and after 6 months at Castlemaine High. It was because of this success, she appeared for one month at 'The Theatre Royal' in Hobart, Tasmania, with Graeme Bell's Jazz Band and Willie Fennell. It was here she was billed as 'Australian Youngest Female Yodelling Star'.
After settling down to a job in Bendigo, Beverley, now 18, received a letter from a 'Rodeo Man' in Queensland, asking her to go on tour with him. She went on tour for a few months, performing in tents in various towns, later returning to Maldon, and at the age 22, she married a man from the rodeo circuit, a magician and ventriaquist. She would then receive a telegram from Buddy Williams 'the Yodelling Jackaroo' asking of she and her husband would join his traveling show.
They were with the Buddy Williams Show for 2 years, performing in halls 6 nights a week. Once after successful tour, they again returned to Maldon. They would soon move to Queenscliff where they ran the carnival on the beach for two years, after which, they found themselves back in Maldon, then Bendigo. Beverley divorced her husband and would later meet someone from Castlemaine who got a job in Darwin, and Beverley followed. She did a lot of work around Darwin and appeared in Tamworth every year performing at the Country Music Festival. Her last visit to Tamworth came in 1993, when Beverley was honoured to have hand placed in the Hands of Fame.
Beverley had been in the Darwin area for the past 40 years, although since 2001 had been traveling around the countryside in her mobile home, taking her music everywhere except Perth. In Darwin she performs with her band 'The Top Enders', and sometimes as solo performer.
Beverley appeared on various radios and TV shows, including Channel 7 (Melbourne) as a support act to the Dave Clarke Five, The Reg Lindsay Show and The McKean Sisters 'Harmony Trail. She has worked alongside many Country artists including: The Hawking Brothers, The Hayes Bros, Olive Bice, Coleen Honeyman, Nola McFarland and Desree-Iliona Crawford.
Apart from recording on the old 78rpm records, Beverley has released 4 CD albums. It's believed that two of these albums are of Beverley singing solo, another CD, she recorded with Olive Bice, and a fourth with family members. Her repertoire includes: Traditional Country, Ballads and Yodelling, and 50's/60's Rock.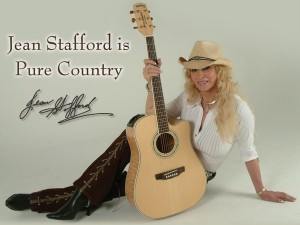 JEAN STAFFORD
She was born in Latrobe, Tasmania on January 1st 1950. At the age of 12, Jean quested in the earliest days of
television on the popular 'Show-Time' series from TNT-9. It certainly gave her exposure which she enjoyed.
In 1965 - freshly out of school, Jean began her recording career. She joined Dusty Rankin on a few duets on
Rankin's first recording session for Hadley in Launceston. In 1970, at the age of 20, Jean recieved her own
recording contract, after winning a talent quest runned by 7LA Launceston. The prize was $100 and a 12 months
recording contract with Hadley records which lasted five years. In this time Jean released five albums............
Her first solo album was 'Flowers For Mama' this was the recognition Jean needed - her song 'What Kind of a Girl
Do You Think I Am?' took out Top Female Singer at the Country Music Awards.
Stafford's most successful song was a number she wrote for second EMI album, entitled 'Someday I'll Take Home The
Roses' it became her signature tune. This song has also been released on many compilations and recorded by other artists.
In 1988, she received a New Zealand Golden Guitar Award for her service to the Industry, the following year (1989),
she was officially crowned 'Australia's Queens of Country Music' by the Country Music Industry and fans.
In 1991 while touring the US, she was presented with the Tennessee State Flag, by the state's representative on behalf of
the Tennessee Government. She was also presented the 'Keys To The City' of Nashville, by the Mayor of Nashville for
service to Country Music in America.
In 1992, she was appointed 'Honorary Comissioner for Tourism' from the state of Tasmania to the US. She recorded 'Tassie's Got It All'
in Nashville, although the video was filmed around Tasmania. This package received airplay and promotional interviews by Stafford in
28 states of the US. It reached a listening audience of 500,000,000 people on world short wave radio of Costa Rica.
It was in 1998, Jean Stafford recorded a single (It Wasn't God Who Made Honky Tonk Angels) with her idol the lovely Kitty Wells in the
US, and had appeared with her on stage in Queensland, when Kitty was invited to Australia.
Her latest album 'Let The Dance Begin' was recorded in Nashville - with legendary musicians Lloyd Green and John Hughey, Brent Mason and Gene Chrisman.
AWARDS / ACHIEVEMENTS
* Winner of 3 Golden Guitars - Tamworth, Australia
* 1988 New Zealand Golden Guitar - for service to the Music Industry
* 1991 MO Award - Female Country Performer of the Year
* 1991 Appointed an Honorary Citizen of Tennessee USA - Service of Country Music in America
* 1992 Appointed Honorary Commissioner for Tourism from the State of Tasmania to the USA
* 1995 Black Opal International Award - for song-writing
* 1997 - No.1 Single 'A Woman's Work'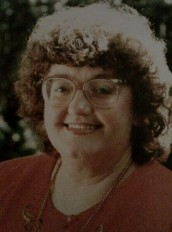 IVY SOMERFIELD
Ivy Somerfield was born in Murwillumbah, New South Wales.
She was born into a musical family with her grandparents being excellent pianists, it was not surprise that Ivy started playing piano. Her true love though, was to sing. Ivy's father, who often sang would encourage his daughter
to sing for their rather small community. At the age of 12, she learnt all Tex Morton songs and decided to become a singer
Her mother presented Ivy with a 'Pacific Guitar' and it wasn't long before Ivy learnt the first 3 chords. It was with
these first 3 chords she won a silver cup at a Kingaroy Talent Quest at the age of 13.
She would later buy a book on
how to play the guitar, where she also learnt correct way of tuning and chord playing.
She was most influenced by singing of Shirley Thoms and she began to perform at country shows around town singing songs
of Shirley Thomas and Tex Morton.
Ivy married at the age of 18, and raring 2 children - and no money or time for music, she concentrated on bringing up
a family. She obtained work wherever she could - picking beans, peas and stripping cane. In 1964, she moved her family
to Sydney there she found a job as a machinist. Her husband took up long distant truck-driving. She managed to find
time to sing at local clubs and parties. When he husband suddenly died, she was once again struggling, bring up two
teenage boy on one income.
In 1979, her life changed again. Her career as singer received a huge boost, and she remarried the following year to
her second husband Wally Gibson who encouraged her to continue with her music. In August 1980, she released a custom
EP of original material which her fans quickly bought.
The success of her first EP, lead to a recording contract with Selection Records with her first LP 'Livin' On Lovin'. It
sported 9 of her own compositions with 3 from her son, Chris. During the 1980's she formed a backing band 'Blue Misty'
to take on tour with her. Songs include: Blue Misty Mountain, Why Do I Need To Hurt You, How It Ends and A Gentleman Called Bill
She also have songs released on compilation records issued by Selection records with fellow artist, Johnny Heap, Reg Poole and
Gordon Parsons.
Ivy died on January 1st 1991. (her husband Wally died only 2 weeks before
_________________________________________________________________________________________________________________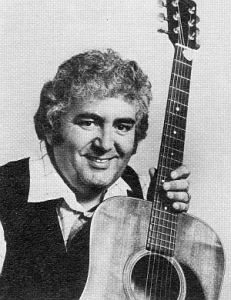 JOHNNY HEAP

Born October 14th 1941, Geelong, victoria.
At the age of 15, Johnny was playing guitar and entering talent quests and later appearing
on radio stations including 3DB and 3GL. Around the age of 18, he started performing with
The Teen Beats a local Rock Band. The group had released one single for W&G Records 'Smoky'
and on the reverse said 'Mid-nighter'. Although he was doing dance music, Johnny would still
perform over radio and TV as a Country singer. In 1960, he made the grand finals of the
Victorian Banjo Club hillbilly championships.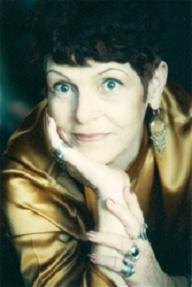 EVELYN BURY

Born on September 17th 1946, Surrey Hills, an outer/eastern suburb of Melbourne.
As a teenager she started singing Jazz - although she had grown up with Country Music,and it's been stated the first Country song she learnt was Tex Morton's 'Mandrake'.
After she had married and started a family life, he career as a singer was put on hold forat least 15 years. After moving to Bundaberg (Queensland) in 1980 - she would gradually
resume her career as a singer doing the pub and club scene
In 1983 Evelyn was behind the move to establish the Bundaburg Country Music Club, and in 1985the Club started the Bundy Easter Round-up, a three day festival. The Club now has morethan 100 members.
Her first release was titled 'Learning How To Love You' which earned her nominationsfor female vocalist and Best New Talent of the year. She walked away with a Golden Guitar
for best Female Vocalist of the year in 1988 for the song 'I'm Stronger Than I Look'. This win, secured a contract with Selection Records. It was for the next 5 years, she receivedno less then 6 nominations at the Country Music Awards.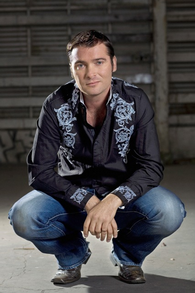 ADAM BRAND
Adam Brand was born in Perth, Western Australia on 27, January 1970
It was at the age of 3, Adam made his first stage appearance sing with his father Michael 'How Much Is That Dog In The Window' in hotel in Perth.
Music was in his blood, when he hit his teens he started his play drums in a Salvation Army Church band, although it was when he heard an album by US Country Band 'Boy Howdy' that he decided that he wanted to become a Country singer.
He formed his own band 'Hodad City' playing Elvis, Alan Jackson, Garth Brooks and also including a few original songs. Although it was January 1997, he decided to take his music more seriously, and headed to Tamworth to busk on Peel Street, as many buskers do every year.
In 1997, Adam signed a publishing deal with Rondor Music, and singed a recording contract with Festival Music four months later. Adam released his first debut album (self titled) in July 1998. The album produced 3 songs that topped the chart 1) Last Man Standing
2) Grandpa's Piano and 3) Dirt Track Cowboy.
Brand – was soon the talk of Country Music in Australia. In January 1999, he won 3 Golden Guitars, APRA Song of the Year for 'Last Man Standing', Best New Talent and Best Music Video of the Year with Last Man Standing.
It was at this stage that he decided to make a living out of Country Music; it was a most rewarding incentive for the young artist. It was the same year he won his first MO Award – the Johnny O'Keefe Encouragement Award – for excellent live performances. His self-titled album 'Adam Brand' went Gold.
In 1999 he joined Melinda Schneider (daughter of Mary Schneider), for a single 'Love Away The Night' which instantly became a chart-topper and a CMT number 1 hit video of the year. The Awards keep coming for Adam – the following year (2000) he won a golden guitar for best 'Vocal Collobration'.
Early 2000, Adam Brand released his second album 'Good Friends' which also reached gold status the following January. January 2001 was Adams year at the Awards, he walked away with three golden guitars 1)APRA Song of the Year with Good Things In Life, 2)Best Album of the Year for Good Friends' and Male Vocalist of the Year.
In 2002 he released his third album 'Built For Speed' which skyrocketed to a number 1 position on the ARIA Country Chart and goes gold after 17 weeks. In 2003
Adam's album 'Blame It On Eve' (released 2008) was believed to have been recorded between Sydney and Nashville with producer Graham Thompson at the helm. It was by far his best recording to date – flew up the ARIA chart to No.10. It was by October 2008, the album had reached No.1 on the CMC Top 30.
During the Tamworth Country Music Award, 2009, Adam was named 'Male Artist of the Year (12th Golden Guitar). It March 2009, following the tragic Victorian bushfires, Adam Brand was the headliner at the Victorian Bushfire Appeal Concert. In 2011, he released 'You're A Rev Head' which was a compilation album of all his popular rev-head songs. That November he joins Taylor Swift as special guest on her North America tour.
Apart from music, he partially runs a little Italian restaurant 'Noonah' on the Gold Coast, Queensland with his Mother and three sisters. When he isn't tour, he can be found in the kitchen of the family restaurant.
Adam released his 12th Album in 2012 by touring with Beccy Cole & Travis Collins
Adam's 12th album, containing 13 tracks 'There Will Be Love' was released mid last year (2012). Earlier this year he kicked off 'I Was There' tour with Beccy Cole, which also included Travis Collins.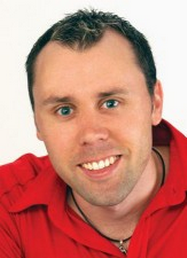 BRENDON WALMSLEY .
Star Maker 1999
After winning Star Maker in 1999, Brendon's debut single 'Rose and Rodeo' won him a Golden Guitar for the Best New Talent in 2000. It came as no surprise with a natural gift. His debut album'A LittleTime' was also a winner when he won his first Heritage Song of the Year GoldenGuitar in 2001 for 'Last of the Big Gun Drovers'.
Brendon certainly was doing something right. His second album "Never Say Never" earned him six nominations and another Golden Guitar in 2002 for Never Never.
In 2004 Brendon was inducted into the Hands of Fame. The following year saw Brendon with his mum (Judy) taking outthe TSA Contemporary Song of the Year Award – collaboration on the Grahame Watts poem 'Patches'.In 2005 Brendon joined the Hum Ridge team, Toowoomba taking on the role coordinating the Music and Production Ministries.
He often performs with his brothers Nathan and Jarad bringing fans some great Country Walmsley classics. His latest album 'Bottle Tree Lane' (released in 2004) is certainly worth while grabbing. The album includes that old time favourite 'Family Bible' and his rendition of'Bob Dylan's classic 'Forever Young'. The title song 'Bottle Tree Lane' was voted Best Australian Country Music Ballad a tthe ACMLA People's Choice Awards. In my opinion it's his best by far and the acoustics on this album is superb.
If you haven't already heard of Brendon Walmsley, check his website for updates, albums, and where you can catch one of his live performances. www.brendonwalmsley.com.au
Jack Paten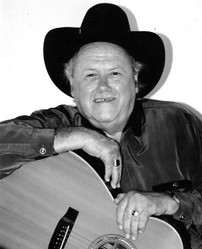 Gordon Larkin

Gordon was raised outside Kempsey in the Macleay Valley of NSW.
He has been singing and playing guitar since his early teens, winning a talent quest on "Slim Dusty's Touring Show" in 1954. Around this time he regularly appeared on Radio 2KM in Kempsey.
Over the years he has performed on many touring shows, and has shared the stage with such artists as Chad Morgan, Buddy Williams, Gordon Parsons, Shorty Ranger, Trevor Day, Athol McCoy, Rex Dallas, Jean Stafford, Barry Thornton, Olive Bice, John McSweeney, Desree Crawford, Country Boys, and many others.
Gordon is equally at home on any stage, be it the back of a truck, a pub, or a club in the city. He has also appeared under the big top of the "Gill Brothers Rodeo". A regular performer at Tamworth for many years, Gordon was honoured to be invited to be a regular guest artist on
the "Tex Morton Memorial Show" which incorporated the unveiling of the Tex Morton Bust.
Gordon has a large repertoire of songs ranging from Tex Morton Yodels, Australian Bush Ballads, to contemporary songs.
He has released 3 audio CD's - "The Best of Gordon Larkin", "Gordon Larkin on and off stage", and "Gordon Larkin remembers the pioneers".
Since 1990 Gordon has been Tour Manager & Support Artist in the legendary "Chad Morgan Show", touring all over Australia.
Due to illness he has stopped touring with Chad Morgan earlier this year 2010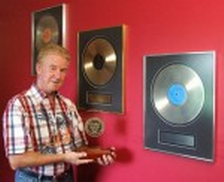 Colin Millington
Born in Melbourne on January 13th 1949
Colin (Col) was 8 years old when he starred in his first song and dance routine. His first professional
group 'Midnight Special' was all the rave in Melbourne, also the band 'The Rondells' who was famed
for backing Pop music hit-makers 'Bobby & Laurie'.

After these two bands, Col joined recording band 'Bluestone' who had a hit single in 1973 called 'Wind
and Rain'. It was long before Col branched out with a group of his own 'Bass Straight' that played a
variety of instruments - which included harmony and lead vocals.

In early 1976 Col went solo. His first release 'Mo John & Fraser' in 1977, which was followed by a 1978
release 'I'll Sing You A Song' backed with 'Husband & Wife'. His first LP was also released in 1978 'Going
Back To The Country' and several other albums saw the light of day.

Like many artist (including: Chad Morgan and Slim Dusty) all appeared on Reg Lindsay's Country Homestead
TV Show which became great publicity for them. Col Millington appeared on Reg's TV show in 1980 singing 'Midnight Flyer'.

His albums 'Midnight Flyer' and 'Red Roses For A Blue Lady' won silver awards for sales of 10,000 units
each. The Australian Performing Rights Association (APRA) awarded Millington an associate membership
for his songwriting ability.

In 2012 Col released another CD album titled 'Charters Towers Gold' with 21 original songs, from array of
singers in the Charters Towers area. These include: Tammy Wilson, Stan Verra, Bob Wine and Donna-Maria
Morris just to name a few. They are the local talent, which prompt Col to record them on this special CD
which was sent around to various radio stations for airplay.

In 2013 Millington teamed up with Gene Bradley Frisk on a song titled 'I Ain't Dead (Just Retired)' which is about
two entertainers who performed all their lives, letting people know that they are not dead, they are just
retired.