FLOREENA FORBES OAM

& THE "TUMBLEWEED COUNTRY MUSIC BAND"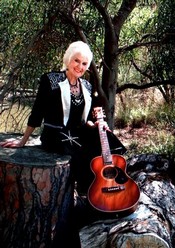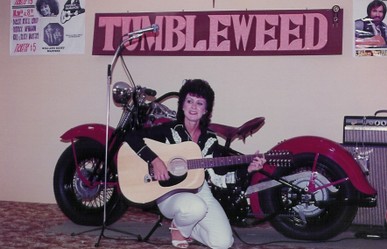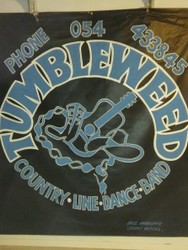 1969.
Floreena bought her 1st guitar.
1969
. Snowy Jenson another country music performer introduced her to
Olive Bice' a great friendship was formed.
Olive encouraged Floreena to continue on with her music, including her in some of her shows.
Olive & Floreena together formed a duo
" Maghogny"
.
1977
Floreena & her husband Wally Forbes formed The Tumbleweed Country Band.
The band reigned or 24 years.
1979
Floreena & Wally opened up a Country Music Club in Bendigo Central Victoria, The Bendigo Country Music Club with Olive Bice as President, Vice President was Snowy Jenson, Secretary - Floreena Forbes, Assistant Secretary -Bill Moore, Treasurer - John Nadort, Assistant Publicity Officer - Ray Dalton, Program Manager Wally Forbes. Committee Members included: Nancy Sheehan, Peter Sheehan, Noel Jenson, Hank Moore, Lyn Golding and Leon Golding. Floreena & Wally
1980
Floreena joined
"CREAM OF COUNTRY"
Olive Bice, Lyn Golding, and Ellen Lee Osterfield
1981
Appeared in
TAMWORTH COUNTRY MUSIC FESTIVAL
appearing on shows with Olive Bice, Ellen Lee Osterfield, Desree Crawford, Anne Conway, Barry Thornton, Colin James, Ivy Somerfield, Reg Poole, Barry Kenny, Snowy Jenson and many others that were performing during that Era.
1982
attended the
"WANDONG COUNTRY MUSIC FESTIVAL"
one of the most memorable occasions Floreena recalls in her career was when she appeared in a Dolly Parton contest at the festival walking through the crowd with a police escort.
1980's "WALLY & FLOREENA worked together, promoting & performing on a charity shows for the RSPA during the bushfires held at the JB Osborne Theatre in Kangaroo Flat, Central Victoria with many other musicians and other charitable organisations
1981 –1985, members of the Tumbleweed band were Bill Simons- keyboard, Terry Simonds - drums, Noelene White pedal steel, Len Pickin – drums, John Cockfield – drums, and Allan Gillingham - lead guitar
1985
, Floreena continued on with her music after the loss of her husband Wally in 1984 and toured regularly with the Tumbleweed Band and performing regularly in the Barham, Deniliquin, Barooga, Rich River, Moama, Tooleybuc, Mathoura, Myrtleford, Murray Downs, Horsham Country Music Festival 2008, Melbourne, and has also travelled to South Australia, NSW, & Victoria supporting Country Music Clubs along the way touring too many venues by hiring a bus taking many of her fans with her with the Tumbleweed Band trailer behind the bus. Many of people still contact her today and talk of the great times that were had.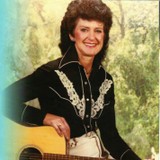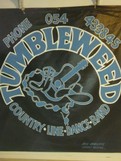 1985,
Tumbleweed Band members, Floreena Vocals and guitar, Allan Gillingham lead and harmonies, Kevin Fitzpatrick - Bass guitar and John Doyle on Drums.
1986
John Doyle resigned to further his career, Ken Jones took over as drummer for the Tumbleweed band.
1986
Floreena cut her first CD in Wangaratta under the label of Ramic, titled "Floreena", which is still available today. The album contains 11 popular country tracks selected by her fans
1987
saw the passing of Kevin Fitzpatrick was a very devoted Bass player and lived for his music. Kevin played his bass guitar right up to a few hours before his death.
Floreena and Robert wrote a song for Kevin titled, "Goodbye to a Friend" Robert working on the lyrics and Floreena the music. The song "Goodbye to a Friend" was recorded on Floreena's second album titled, "Floreena Country Favourites in 1989.
1989
Floreena ventured further and travelled performing regularly to many of the clubs and hotels in NSW, Melbourne, and Central Victoria as well as her home town in Bendigo Victoria. Sometimes working three to four shows a week.
still contributing her talent by raising money for the community in whatever way can.
1987
Bass Player Paul Holmes joined the Tumbleweed band in and resigned in 1989.
1989
Alex Thelma joined Tumbleweed on keyboard, Kim Crow on Bass guitar and Ted Bullow on drums.1991, Alex Thelma left to further is career in teaching and Graeme Byrnes joined the band as lead guitarist
1991
the Bootscootin' craze had hit. It was everywhere Tumbleweed Band had a great following. Floreena and Robert took lessons and gave Bootscootin lessons, they then formed a Tumbleweed Line Dancers Team where they performed with the Band throughout Victoria & NSW, they travelled each week to many Country Venue's such as the Murray Downs Golf Club, Swan Hill Tooleybuc Club, Balranald Club, Barham Club, Bendigo Club and smaller venues in their home town of Bendigo in Central Victoria
A decision was made not to tow the trailer with the car anymore, as the equipment had increased and with the car needing repair, Tumbleweed hired a bus to take the band to and from their destination, towing the band trailer behind the bus taking the Tumbleweed fans with them. Many memorable tales and stories arose from these trips, some of which are still talked about fondly to this day by the band and all their fans, great nights of music and dance were held. Floreena making sure all her fans were kept happy by adjusting the line dancing to many of the old time dances, in other words, a dance for everybody from the Fox Trot, to Pride of Erin, to Evening 3 step Rock and Roll and more.
The Bootscooters always being courteous to the other dancers by keeping to the outside part of the dance floor, on many occasions some of the venue's had 2 dance floors making it so much easier with the Bootscooters on one floor and old time dances on the other.
Floreena would name the dance, this arrangement worked extremely well with everyone kicking up their heels and having a great time. The Tooleybuc Club had around 1200 people on a social night organised by the Tooleybuc Bootscootin' Club, with the atmosphere being electric, everybody talking about the dance they would do or by following the program.
The Murray Downs Club Swan Hill would clear away the chairs from around the dance floor to make more room to be able to accommodate all the dancers. The Tumbleweed Line Dancers would perform in front of the band all dressed in uniform, always happy demonstrating the dances. With the band working more regularly, Tumbleweed included Paul Deborteli. As their roady and bus driver, then Wayne Maisey, Nick Nchrama and finally Robert. Many happy stories are being talked about today by the band and all their fans that made the journey a happy one.
The Floreena Forbes & Tumbleweed Band became very popular between the 1980's up to 2006 working on a regular basis and touring over much of Victoria and NSW and many parts of Melbourne. This cartoon was designed by Bill Radcliff of the tumbleweed Country Band
Many great friendships were made during those years and still remain to this day, even though the Tumbleweed Band has retired. The Bootscooters are still following the socials and meeting up with their friends, and remember the Tumbleweed Band were it all began.
1995
Floreena teamed up with the bass player Jim Moran. Floreena and Jim continued on as The Tumbleweed Country Duo, still working in the same venues with backing tracks still maintaining their popularity, the line dancers still Bootscootin' to their favourite songs.
BBB-BENDIGO BLUEGRASS BAND
2006, Floreena formed a Bluegrass Band "BBB" - Bendigo Bluegrass Band. Members were Floreena Forbes (Lead Vocals, Rhythm Guitar.), Geoff Morris (Vocals& Harmony), Sue Webb (Mandolin, Harmonica, and Harmony), and Roy Webb. (Guitar Harmony), Chris Ryan (Banjo Harmony), Tony Ryan (Dobro), Finn Mathews (Slap Bass), Penelope Somerville (Fiddle & Harmony). The group would eventually go on to rename themselves the Band Tumbleweed.
2008
. Floreena was diagnosed with Breast Cancer. This set her back for a time and later continued on doing what she loved, "Country Music" Floreena continues to be a strong advocate for raising money for Cancer awareness and those affected by the disease, as well as continuing her work with numerous charities, the elderly and raising money for people in need, as the years continue to roll by and Country Music is still a big part of Floreena's life.
2014
2015
Still today
actively involved organising and participating in successful fundraisers for many charitable organisations since the early 1970's. Including Lions & Apex Clubs. Events for Cancer research, the Salvation Army, RSPCA, Bush Fire Appeal and the Australian Niemann Pick Foundation plus others,comforting the elderly in nursing homes & more.
Floreena has continued to give her time voluntary to help raise funds for the elderly & entertaining in many nursing homes, and many other charitable organisations as well as enjoying her music appearing solo or with Olive Bice as "Bendigo's 2 Country Divas" and performing as a guest artist with other musicians.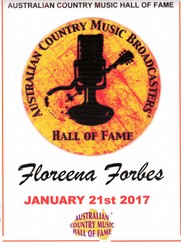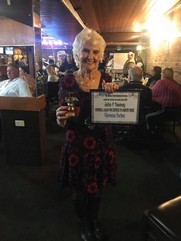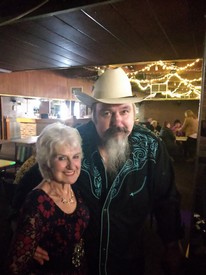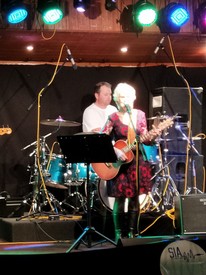 Resent Awards
2017
Inducted the Tamworth Country Music Broadcaster Hall Of Fame
2018
Awarded "The John P Toomy" award for services to Country Music at the Dubbo Spectacular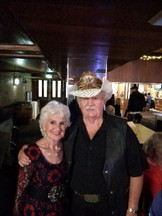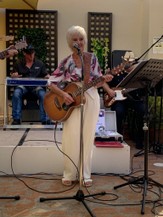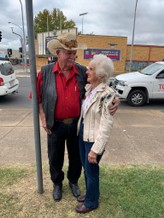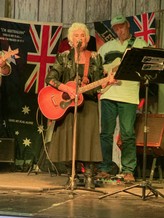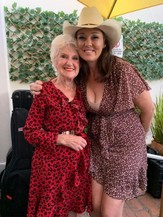 2019- 2022 appeared in Tamworth with Fibber Parker, Tamworths longest Serving Entertainer
appearing on the Fundraiser show " Doing It For our Farmers singing her traditional country music and
Donating her time.
2022 April 16th 23rd ,
returned to Tamworth to do it all
over again, being guest on all 9 of Fibber Parkers shows including Fundraiser for "Ronald Mc Donald House Children's Hospital" held at The Pub 99 Gunnedah Rd Tamworth
20.1.2022.
The same evening together with many musicians recieved an Appreciatin Certificate from Ronald McDonald House.The same evening Vanessa Sanger was on Fibbers show,a lady to be admired.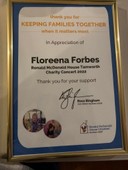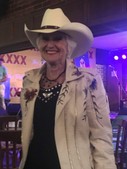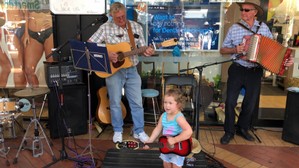 Nemingha Tavern, Family Hotel Tamworth between 14th-23 January 2022
Floreena appeared on Ernie Johns & Avalanche shows held at the Red Cross Hall Kable St Tamworth each day at the Red Cross Hall during the feativa
l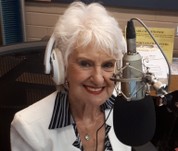 FLOREENA IS A RADIO PRESENTER has raised money for local FM Radio stations, still today in 2019 continues broadcasting on 106.7 Phoenix Fm working regularly each week broadcasting from 106.7 Phoenix Fm Bendigo's Local Community radio station in Bendigo Victoria.
Floreena was one of the foundation members of 106.7 Phoenix Fm
from its inception and still Supports Phoenix Fm today.
1996
began radio presenting on 3 Triple C 3 Triple C in Bendigo Victoria and today continues promoting Country Music
106.7 Phoenix FM.
Where she presents her own popular country music programs with
country
music, interview's and talks about the history of Country Music and discussing many Charity' community events along with country, bluegrass & more
FLOREENA HAS HER OWN WEBSITE www.floreena.com
this website was designed in the
1990's
and is still operating today
as
"Floreena Promotes Country
including other artists as well as herself, Pioneers of Country Music/Australian/USA.Hillbilly,Country Music Clubs,Bootscootin Clubs,Birthdays you name it it's there.
Floreena Promotes Country
has produced Concerts each year to raise money for the Australian Niemann Pick Foundation
2014, 2015, 2016, 2017, 2018, 2019 total of $18.529.85
these concerts included Bendigo's 2 Country Divas & other artists going back as far as the early 1970's Floreena has been running concerts for so many charities & Radio Stations.

Floreena albums are promoted on YouTube
Facebook page
https://www.facebook.com/Floreena-Forbes
FLOREENA FORBES -Time Line: Highlights from each year since 1966

1966 - Started performing Country Music around Bendigo.
1977 - Tumbleweed is formed
1979 - Bendigo Country Music Club (Floreena Forbes Assistant Secretary & Publicity Officer)
1981-Wandong Country Music Festival with Tumbleweed & Participating in a Dolly Parton Contest
1980 Cream of Country (Group) is formed- Floreena Forbes, Olive Bice, Lyn Golding, Ellen Lee Osterfield
1986 - 1st CD 'Floreena' Recorded at "Ramic Studio" Wangaratta
1987 - 2nd CD 'Country Favourites' Recorded at "Canyon Audio" Wangaratta
2002 - Bendigo's Three Country Diva's (Floreena, Olive Bice Anne Conway)
2002-Outstanding Contribution to 89.5 Triple C FM
2006 -Foundation Member of 106.7 Phoenix FM
2006- Fundraiser for 106.7 Phoenix FM
2006 - Formed Bendigo's Triple B Blue Grass Band – (BBB)
2007 Fundraiser for 106.7 Phoenix Fm $1050.00
2008 - Horsham Country Music Festival performing solo & as "Dolly Parton"
2008 - Appreciation Award from Council – (Charitable work)
2008 -At this time Floreena was diagnosed with Breast Cancer
2009- Fundraiser for 106.7 Phoenix Fm
2009- Fundraiser for Cancer Raising $2500.00
2010-Fundraiser for Cancer Raising $3000.00
2011 - County Round-up Appreciation – (Charity work)
2013 - CD 'For the Good Times' -- recorded by Shoe Fly Studio
2013- Horsham Country Music Festival-Award "Most Popular Busker"
2014- CD "A Trip Down Memory Lane "Recorded & Produced at Luigi Studio's Bendigo Vic
2014 –27th Nov: Presented with an Honorary Life Membership Certificate of Appreciation from the Management Committee Central Victorian Community Broadcasters Inc Trading as Phoenix FM in recognition for her valuable and sustained contribution.
2014 -Floreena was
recognized
for raising $3010.00 for The Australian Niemann Pick Foundation Type C Inc.
2015 - Floreena was
recognized
once again for raising $2190.00 for The Australian Niemann Pick Type C Foundation Inc
2016
- Floreena was
recognized
for raising $2700.00 for the Australian Niemann Pick Foundation Type C Foundation



2017 -

Floreena was inducted into the Australian Country Music Broadcasters Hall of Fame in Tamworth
2017-Floreena was
recognized
for raising $2620.00 for the Australian Niemann Pick Foundation Type C Foundation
2018 -Floreena was
recognized
for raising $4488.50 for the Australian Niemann Pick Foundation Type C Foundation
2018
- Floreena recieved J.P.Toomey Award from the Mal Norton Entertainment Services also known as The Dusty Boot Awards
2019
- Floreena was
recognized
for raising $3523.35 for the Australian Niemann Pick Foundation Type C Foundation
2021
- Floreena recieved a Victorian Senior of the Year Award (Cota). For Services to the Community for her input into the Community over many years,by means of her Music, Radio announcing, Website.
2022-
June 22 Floreena was awarded (OAM) Order Of Australia Medal-From the Oder of Australia Association Victorian Branch