FLOREENA FORBES

& THE "TUMBLEWEED COUNTRY MUSIC BAND"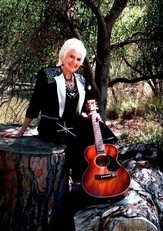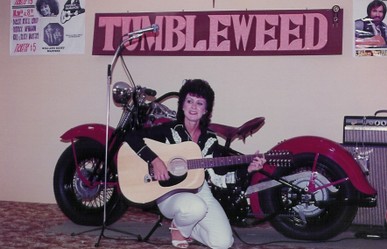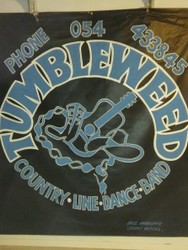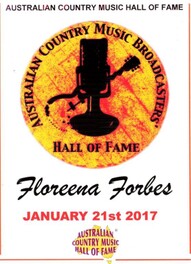 Floreena began her Country Music career around
1967
, it wasn't till the 70's she became more involved in Country Music after meeting Snowy Jenson a very dedicated country music entertainer. Snowy invited Floreena and her husband Wal Forbes bass guitarist to bring her guitar and join with many friends in the country music industry to jam in his music shed.
Snowy Jenson introduced Floreena to Olive Bice where they became close friends and are so today
A new group was formed in the mid
1970's
with Olive Bice Ellen Lee Osterfield, Lyn Golding Called "Mahogany"
1977
Floreena and her husband Wal Forbes, formed their own band, Floreena Forbes & The Tumbleweed Country Band with Wally on bass guitar his son Wayne Forbes on drums ,Snowy Jenson guitar,Bill Buckle on lead guitar.
1979
,
The Bendigo Country Music Club was formed with Olive Bice as President, Vice President was Snowy Jenson, Secretary - Floreena Forbes, Assistant Secretary -Bill Moore, Treasurer - John Nadort, Assistant Publicity Officer - Ray Dalton, Program Manager =Wal Forbes. Committee Members included: Nancy Sheehan, Peter Sheehan, Noel Jenson, Hank Moore, Lyn Golding and Leon Golding.
1980
, Floreena appeared in a Dolly Parton look-a-like floor show held at the Bendigo Club. This act was so successful, that the Tumbleweed band included it in their act at Birthdays and special occasions, adding great humour to the evening and memories still talked about today.
Wal built their band trailer and painted it dark brown with orange & white sign writing. The trailer became a well-known identity in the City of Greater Bendigo in Central Victoria.
1980
There were two Spectacular concerts held by the Bendigo Country Music Club, the first called the "Local Country & Western Spectacular" was held Friday 21st November 1980. The second was held on Friday 21
st
November 1981. Both concerts were well received and a huge success!
This club disbanded in the mid 1980's, a new club was born called the Bendigo Country Talent Club.
1981
One of the most memorable occasions Floreena recalls was when she appeared in a Dolly Parton contest held at the Wandong Country Music Festival. Again she hit the jackpot with a Police escort! The Police escorted her through a large crowd with many photographs being taken. Some of these photographs appeared in the Weekly Times newspaper and appeared again at the Tamworth Country Music Festival
where she included Dolly in her act.
There were several changes in the Tumbleweed Band line up over the years. Each change brought about a different sound, although still retaining what had made the band so popular, by keeping their music to dance time and singing many of the country classic's and popular songs the crowd could relate to, encouraging everyone to dance and have a great time.
1981 –1985
, members of the Tumbleweed band were Bill Simons – keyboard, Terry Simonds - drums, Noelene White - pedal steel, Len Pickin – drums, John Cockfield – drums, and Allan Gillingham - lead guitar
1985
, Floreena continued on with her music after the loss of her husband Wal in
1984
. The band reformed fronted by Floreena Forbes, Helen Kantz on Bass Guitar, Craig Bridges - lead guitar, Chris Appleby - rhythm and her stepson Wayne on drums.
1985
, Floreena Vocals and guitar, Allan Gillingham lead and harmonies, Kevin Fitzpatrick - Bass guitar and John Doyle on Drums .
1986
John Doyle resigned to furthur his career, Ken Jones took over as drummer for the Tumbleweed band.
1986
Floreena cut her first CD in Wangaratta under the label of Ramic, titled "Floreena", which is still available today. The album contains 11 popular country tracks selected by her fans.
1986
John Doyle resigned and Ken Jones took over as drummer for the Tumbleweed band.
Floreena ventured further and travelled and performed regularly in many of the clubs and hotels in NSW, Melbourne, Central Victoria and in her home town in Bendigo. Sometimes working three to four shows a week,
1987 also saw the passing of Kevin Fitzpatrick. Kevin was a very devoted Bass player and lived for his music. Kevin played his bass guitar right up to a few hours before his death.
Floreena and Robert wrote a song for Kevin titled, "Goodbye to a Friend" with Robert working on the lyrics and Floreena the music. The song "Goodbye To a Friend" was recorded on Floreena's second album titled , "Floreena Country Favourites in 1989.
1987 Bass Player Paul Holmes joined the band and resigned in 1989.
1987
Floreena went back into the studio and recorded her 2
nd
album Floreena Country Favourites' with 14 Tracks of popular Country Classic's. Her fans were waiting for her second album. Floreena's albums are still available today by contacting floreena@floreena.com.
1987
also saw the passing of Kevin Fitzpatrick. Kevin was a very devoted Bass player and lived for his music. Kevin played his bass guitar right up to a few hours before his death.
Floreena and Robert wrote a song for Kevin titled, "Goodbye to a Friend" with Robert working on the lyrics and Floreena the music. The song "Goodbye To a Friend" was recorded on Floreena's second album titled , "Floreena Country Favourites in 1989.
1989
Bass Player Paul Holmes joined the band 1987 and resigned in 1989.
1989
saw Jim Moran join the Tumbleweed Band on Bass Guitar, Vocals and Harmony .
Floreena continued on with her career and has become a popular recording artist ,recording on labels Ramac, Canyon Audio, Muso Stuff, Shoo Fly Studio, Louigi Studio's, she was influenced by Shirley Thoms, June Holms and Patsy Cline and toured extensively with her Band." Floreena Forbes & Tumbleweed" throughout Victoria NSW, Melbourne Country Towns, Working in Clubs Hotels, to name a few, Deniliquin, Murry Downs, Moama, Mildura Mathoura, Balranald, Barham, Tooleybuc and Tamworth. The band Reigned for 24 years, later, Floreena Joined with Jim Moran on bass guitar as the Tumbleweed Country Duo.
1989
Alex Thelma joined Tumbuleweed on keyboard, Kim Crow on Bass guitar and Ted Bullow on drums. In 1991, Alex Thelma left to further is career in teaching and Graeme Byrnes joined the band on lead guitar
1991
the Bootscootin' craze had hit. It was everywhere and had a huge following. You name a place and it was there. Floreena and Robert took lessons and learnt Bootscootin'.
Floreena and Robert then began teaching Bootscootin' and travelled each week to many Country Venue's such as the Murray Downs Golf Club, Swan Hill Tooleybuc Club, Balranald Club, Barham Club, Bendigo Club and smaller venues in their home town of Bendigo in Central Victoria
Floreena decided not to tow the trailer with the car anymore, as the equipment had increased and with the car needing repair, Tumbleweed hired a bus to take the band to and from their destination, towing the band trailer behind the bus - taking the Tumbleweed fans with them. Many memorable tales and stories arose from these trips, some of which are still talked about fondly to this day by the band and all their fans.
In 1991
, the Tumbleweed band formed their own Line Dance team called the "Tumbleweed Bootscooters" and the "Tumbleweed Country Line Dancers" with teams from Tooleybuc, Swan Hill, Kerang and Bendigo.
Many great nights of music and dance were held. Floreena making sure all her fans were kept happy by adjusting the line dancing to many of the old time dances, in other words, a dance for everybody from the Fox Trot, to Pride of Erin, to Evening 3 step Rock and Roll and more.
The Bootscooters always being courteous to the other dancers by keeping to the outside part of the dance floor, on many occasions some of the venue's had 2 dance floors making it so much easier with the Bootscooters on one floor and old time dances on the other.
Floreena would name the dance. This arrangement worked extremely well with everyone kicking up their heels and having a great time. The Tooleybuc Club had around 1200 people on a social night organised by the Tooleybuc Bootscootin' Club, with the atmosphere being electric, everybody talking about the dance they would do or by following the program?
The Murray Downs club would clear away the chairs from around the dance floor to make more room to be able to accommodate all the dancers. The Tumbleweed Line Dancers would perform in front of the band all dressed in uniform, always happy demonstrating the dances.
With the band working more regularly, Tumbleweed included Paul Deborteli. As their roady and bus driver, then Wayne Maisey, Nick Nchrama and finally Robert. Many happy stories are being talked about today by the band and all their fans that made the journey a happy one.
Many great friendships were made during those years and still remain to this day, even though the Tumbleweed Band has retired. The Bootscooters are still following the socials and meeting up with their friends, and remember the Tumbleweed Band were it all began.
The Tumbleweed Band
became very popular between the 1980's up to 2006 working on a regular basis and touring over much of Victoria and NSW and many parts of Melbourne.
1995
Floreena teamed up with the bass player Jim Moran. Floreena and Jim continued on as The Tumbleweed Country Duo, still working in the same venues using Mini Discs as their backing music, with Floreena still playing rhythm guitar and Jim on Bass guitar. The duo worked extremely well together still maintaining their popularity, the line dancers still Bootscootin' to their favourite songs.
2006
, Floreena formed a Bluegrass Band "BBB" - Bendigo Bluegrass Band. Members were Floreena Forbes (Lead Vocals, Rhythm Guitar.), Geoff Morris (Vocals& Harmony), Sue Webb (Mandolin, Harmonica, Harmony), Roy Webb.(Guitar Harmony), Chris Ryan (Banjo Harmony), Tony Ryan (Dobro), Finn Mathews(Slap Bass), Penelope Somerville (Fiddlle & Harmony). The group would eventually go on to rename themselves the Band Tumbleweed
2008.
Floreena was diagnosed with Breast Cancer. This set her back for a time and later continued on doing what she loved, "Country Music" Floreena continues to be a strong advocate for raising money for Cancer awareness and those affected by the disease, as well as continuing her work with numerous charities, the elderly and raising money for people in need.
And so the years continue to roll by and Country Music is still a big part of Floreena's life.
Floreena continues to enjoy producing shows, promoting other artists and still performs and attends the Country Music Clubs and Festivals.
Floreena is now performing solo and with Olive Bice as the Bendigo 2 Country Divas,Originally called the 3 Bendigo Country Divas with Anne Conway.
Anne for health reasons retired from the groupbeing invited to work with other Bands as a Guest Artist and Country Music Clubs. She has supported the Royal Children's Hospital and was recognised by the city of the Greater Bendigo 2008 for her contribution towards the Seniors Festival Floreena is still performing and supporting many charities. Today and works tirelessly producing concerts for the Australian Niemann Pick Foundation Inc Fundraisers.
Radio
has been a big part of her career in the early 1990's she joined 3 Triple C Fm & later became a foundation member of 106.7 Phoenix Fm
Floreena still presents her own show on 106.7 Phoenix Fm 11 am -1Pm on Thursdays presenting, balladeer music, Country, Bluegrass & more with live and recorded interviews
2017
Floreena was inducted in the" Australian Country Music Broadcasters Hall of Fame" in Tamworth
where she was recognized for her Country Music and involvement in Radio & the community
2018
Floreena was presented the
"

John Toomy Award for Services to Country Music
From" Mal Norton Entertainment Services"