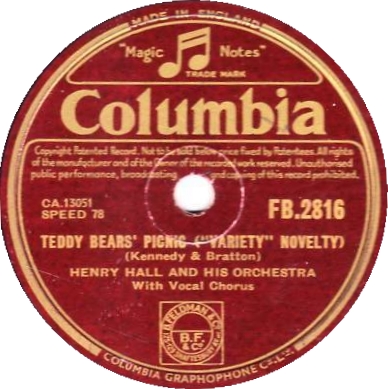 TEDDY BEAR'S PICNIC
The melody was composed in 1907 by John W. Bratton. It was after the melody was written, many people
felt that the composer plagiarized portions of the melody, but there was no case, so the melody remained.
The first recording the Bratton's melody was by the Edison Symphony Orchestra late 1907, and released in 1908.
The lyrical work was added in 1932 by Irish song-writer Jimmy Kennedy. The first vocal version was recorded
in 1932 by Henry Hall and his Orchestra with Val Rosing singing the lyrics. The song had been recorded by various
other artists including:- Bing Crosby, Rosemary Clooney and Anne Murray. The song has become a great novelty
song for children - with a most catchy tune.
---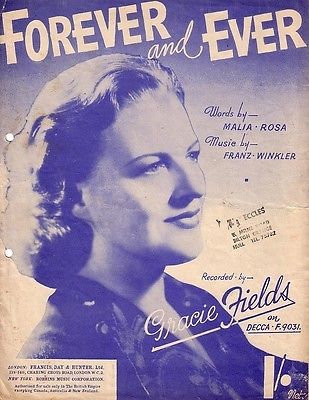 FOREVER AND EVER
It was written in English by Malia Rosa in 1948 to the melody of a German song and originally
recorded by Gracie Fileds the same year. In 1949 Perry Como released the song as a single which became a hit for him.
Also in 1949, it was recorded by Russ Morgan, Margaret Whiting and Dinah Shore. It was one of those popular song
of the 1940's that rarely is heard today.
---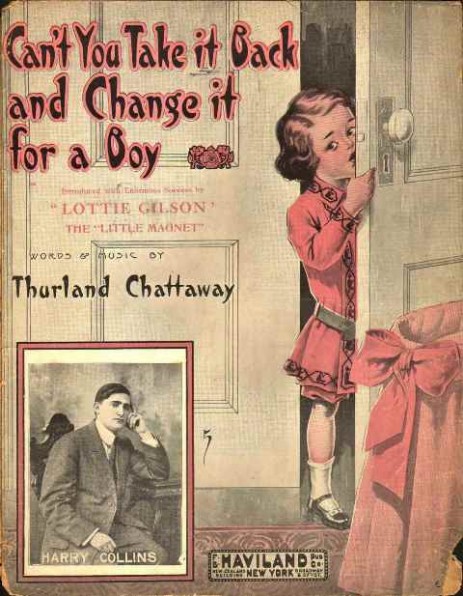 CAN'T YOU TAKE IT BACK AND CHANGE IT FOR A BOY?
Written by Thurland Chattaway, who was a popular composer between 1898 and 1912.
He is most famous for writing the lyrics of the ever popular song 'Red Wing' in 1907, which everyone seems to know.
It seems that the earliest recording of 'Can't You Take It Back And Change It For A Boy?' was by tenor Byron G. Harlan
with a full orchestra . It was recored on the Victor Record label in Camden, New Jersy USA on April 5th 1911. In 1940
Canadian hillbilly singer, Smiling Billy Blinkhorn recording a version of the song and later American singer / actor Rex Allen
.
---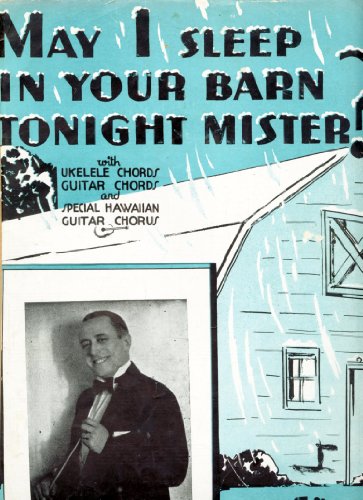 MAY I SLEEP IN YOUR BARN TONIGHT MISTER

It seems the song was written to the tune of 'Red River Valley' and composed during the 1890's. It was first recorded by in
1925 by Charlie Poole, and in 1927 by Vernon Dalhart. It has many recorded by many artists thereafter including Tex Morton during the 1930's. It has recently been revived as "May I Sleep In Your Arms Tonight, Mister?"

---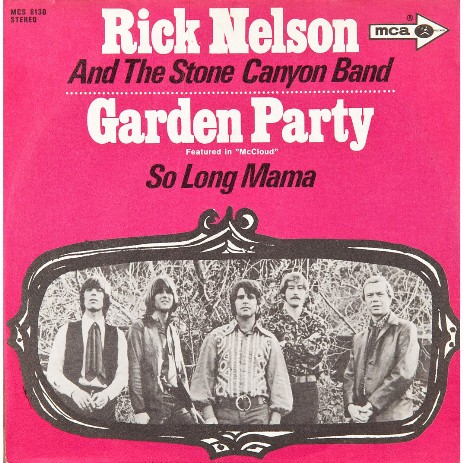 GARDEN PARTY
In October 1971 Rick Nelson agreed to play at a Rock 'n Roll revival concert at Madison Square Gardens 'The Garden Party' along with other greats including Chuck Berry and Bobby Rydell. Ricky was no longer the teenage idol that his fans remembered, his hair was shoulder length and wearing bell-bottom trousers. He started his segment with his old hits including 'Hello Mary-Lou' and 'She Belongs To Me'. He then switched to his new material 'Honky Tonk Woman' this was when the audience of 22,000 started booing, Ricky walked off stage. This experience left Rick Nelson shaken up. He then put his feelings into the song 'Garden Party' and was released the following year it skyrocketed to No.1 in 6 countries selling 8 million copies. In the song the reference to 'driving a truck' Elvis Presley drove a truck before he was discovered. 'You Can't Please Everyone, So You Gotta Please Yourself' - was a statement that he lived by ever since. The songs has been recorded by various country artists.
---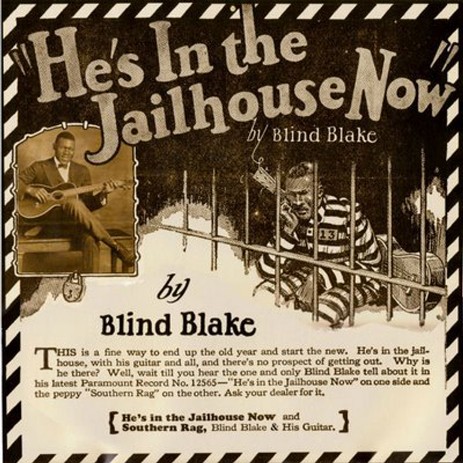 HE'S IN THE JAIL HOUSE NOW
T

his is truly an old favourite, 'In the Jailhouse Now' has its origins in the old Vaudeville days. It's believed that the earliest copyright for the song was 1915, a version by two African-American theatre performers named Davis and Stafford. The Blue Yodeller, Jimmie Rodgers was often been credited with writing it but Blind Blake's 1927 version (with different words) was recorded four months before Jimmie Rodgers'. The song has been recorded by many artists including:- Tommy Duncan, Webb Pierce, Johnny Cash, Merle Haggard, Doc Watson and or very own Rick & Thel Carey.
---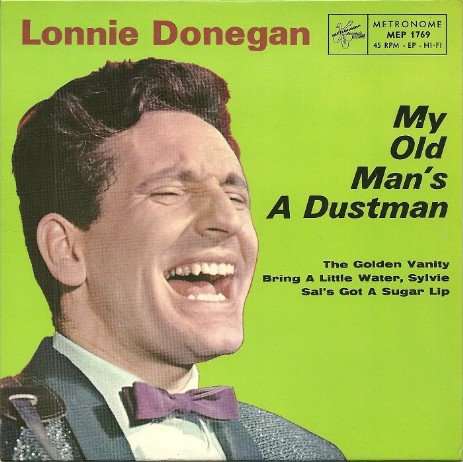 The song was written by Lonnie Donnegan, Peter Buchanan and Beverley Thorn.
Lonnie recorded the song in March 1960 and it became a hit, reaching No.#1 on the British, Australian, New Zealand and Canadian single charts that same year.
In late 1960 a Dutch version was also released by T. Rix. The Bee Gees had performed a version of the song on Bandstand in 1963.
Today it is still a favourite – performed by many artist.
---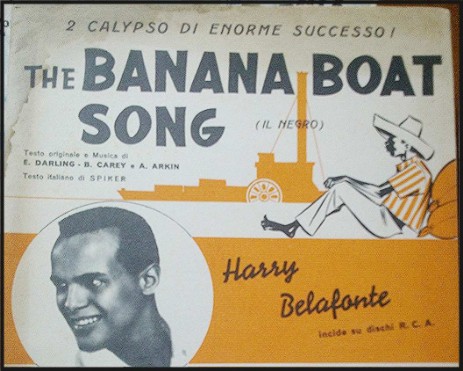 BANANA BOAT SONG – (DAY-O)
This is a traditional Jamaican folk song. The song was thought to be sung by Jamaican banana workers with various lyrics mainly made up on the spot. First recorded by Eric Connor, the best version of this song was by Jamaican-American singer 'Harry Belafonte' in 1956. It soon became Belafonte's signature tune, performing it on The Muppet Show .
During the 1960's our 'Country Music Clown' Chad Morgan started singing the song on his own show and it his own words "it's gonna be made very unpopular by me" – and in the opening shout of 'Day-O' he frightens the living daylights out of his audiences.
Others who have recorded the song include: Bob Gibson, Shirley Bassey, Shaggy and the Wiggles
---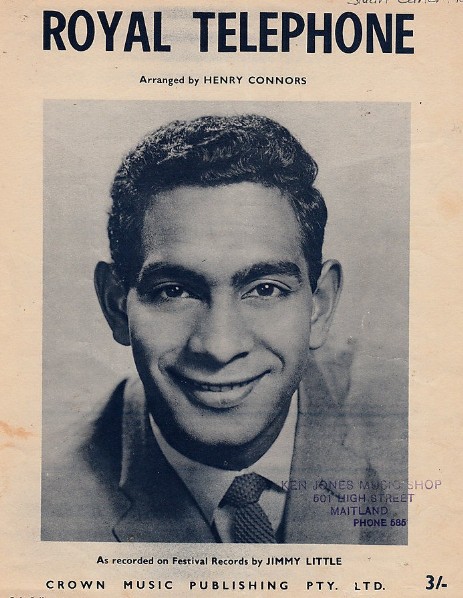 ROYAL TELEPHONE
The Royal Telephone, also known as Telephone To Glory, is a gospel song written by Frederick M. Lehman in 1919. In 1961 – Burl Ives recorded the song on his album 'The Versatile Burl Ives' the album reaching No.35 on the Billboard Charts.
Columnist for the Australian Women's Weekly Bob Rogers reported in mid-1963 that Gospel songs had failed to catch on in Australia. Rogers certainly retracted the report, when Jimmy Little recorded 'Royal Telephone.
When Jimmy Little released 'Royal Telephone' in October 1963 – it became his biggest hit. It was in 3 weeks the single was rising to the top, became one of the fast selling records of that year. Public demanded further releases of this type, so Festival released an LP by Jimmy Little titled 'Sing to Glory'. However Jimmy's version of Royal Telephone sold more than 75,000 copies.
---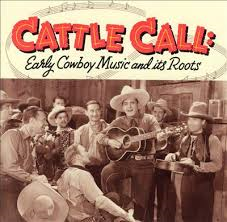 T
his song was written and recorded in 1934, by Tex Owens.
In 1944 Eddy Arnold recorded song, which became his signature tune. In 1955 Eddy Arnold re-recorded the song – spending 26 weeks on the Country Music Charts at 2 of the 16 at No.1.
Others have record 'The Cattle Call' include: Tex Ritter (1947), Carolina Cotton (1951) and Slim Whitman (1954), Dottie West, Rex Allen.
---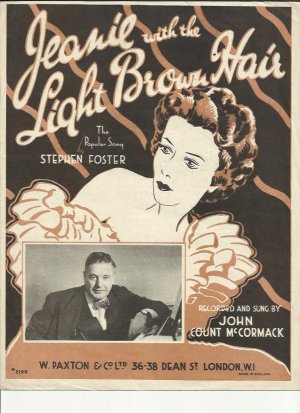 JEANIE WITH THE LIGHT BROWN HAIR
This song was written by Stephen C. Foster in 1854.
In 1850, Stephen Foster married Jane D. McDowell, whose nickname was 'Jennie'. Their marriage was short lived, and separated in 1853. Foster composed 'Jeanie With The Light Brown Hair' perhaps in attempt to win her back.
The song was extremely popular – recorded by various artists including: Stephen Foster, Lambert Murphy, Al Jolson, Glenn Miller and Charlie Rich.
---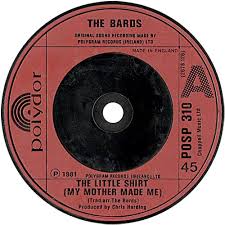 THE LITTLE SHIRT MY MOTHER MADE FOR ME
It was written by English composer Harry Wincott – who composed many popular pub songs from the turn of the 20th century.
The melody to this song, is from a much older Scottish song.
I has been recorded by many artists, the earliest was by Tom Wooton in 1907 –
Others include: Bradley Kincaid 1933, Wilf Carter 1942, Marty Robbins 1933
And Australia's own Dusty Rankin.
---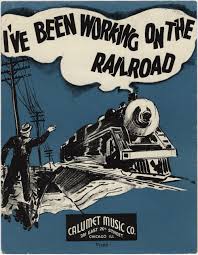 I'VE BEEN WORKING ON THE RAILROAD
I've Been Working On The Railroad – is one of those traditional songs that will never die. It was first published in 1894, although it appeared as 'Levee Song'. The earliest known recording of this song is in 1927 by the Sandhills Sixteen.
The 'someone's in the kitchen with Dinah' section of the song, is a different melody taken from a much older song. It was published as 'Old Joe' or Somebody's In The House With Dinah, in London around 1830's.
Funnily enough 'The Eyes of Texas' is set to the tune of I've Been Working On The Railroad.
---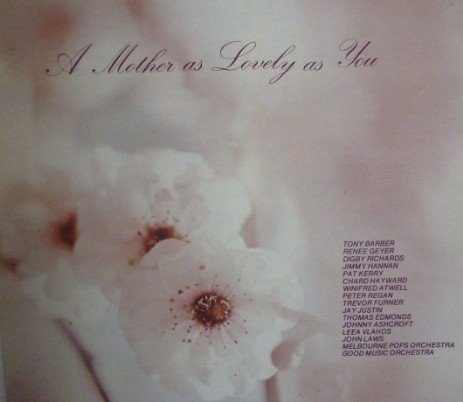 A MOTHER AS LOVELY AS YOU
A Mother As Lovely as You was written by Smith / Connelly and published in 1952.
The melody to the song (as it was stated) was adopted from a Maori folk melody 'Hoea ra'.
The song became popular world wide, for one day of the year since it's release, for Mother's Day compilation albums.
The popular song had been recorded by many people, including Australia's own Buddy Williams and Col Joye, other artist included: Jan Peerce, Patsy Rigger, Dale Duncan – and recorded by the popular Ivy's Old Time Dance Band.
---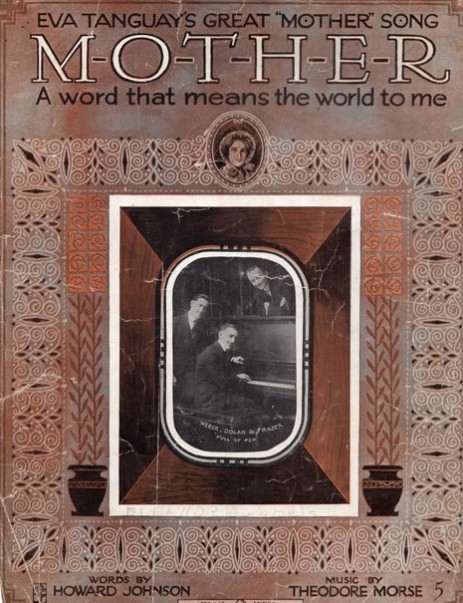 M-O-T-H-E-R
This song was written by H. Johnson and music by: T. Morse in 1915.
Johnson was also noted for writing other popular songs – 'Ireland Must Be Heaven For My Mother Came From There and 'I Scream, You Scream,
We all Scream For Ice-Cream'.
The first to record this song was believed to have been Henry Burr in 1916. Henry Burr recorded many well known songs including:
In The Shade Of The Old Apple Tree (1903) and 'I Wonder Who's Kissing Her Now' (1909).
M-O-T-H-E-R was also recorded by Eddy Arnold.
---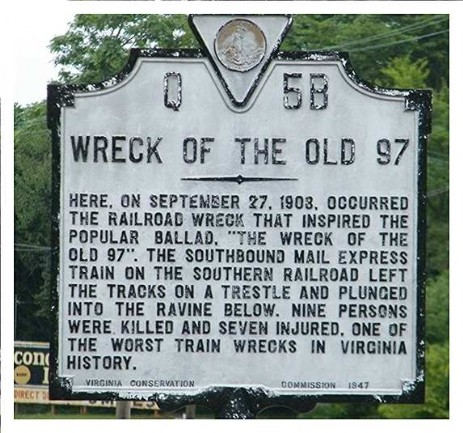 WRECK OF OLD '97
The song 'Wreck Of Old 97' was modelled on a much earlier song titled 'The Ship That Never Returned' by Henry Clay Work. Henry Clay Work was the same composer of 'My Grandfather's Clock'.
It was on September 27th 1903 – Number '97 which was a fast mail train between Atlanta and Washington had reached Virginia an hour late. There was a change of crew, and on the fatal ride Joseph Broady was at the throttle. Knowing to be a bit of dare-devil, he tried to make up lost time when he approached Stillhouse Trestle, a wood bridge across Cherrystone Creek, too fast to make the curve, when the locomotive and five cars attached flew off the rails. All souls were lost.
It's believed that several musicians wrote ballads about the incident borrowing the melody of Henry Clay Work. It was recorded in 1923 by Henry Whitter, and soon after Vernon Dalhart recorded the song for Victor label. Up until 1940 court sessions were taking place, a battle over the composer's royalties, it is still unknown. What is known the original melody was composed by Henry Clay Work.
The song 'Wreck of Old '97' is still very popular. It has been performed and recorded many artist, Slim Whitman and Johnny Cash included.
---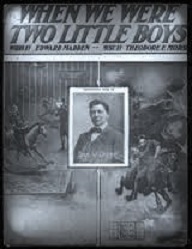 WHEN WE WERE) TWO LITTLE BOYS
The song was composed by American, Theodore Morse and written by Edward Madden in 1902, and became a popular Music Hall song. Lyricist, Edward Madden also wrote 'By The Light Of The Silvery Moon' among other popular songs of the day.
In those early years 'When We Were Two Little Boys' was made extremely popular by Harry Lauder.
Another entertainer, Rolf Harris picked up the song from Ted Egan, who sang it to him and recorded it on a cassette tape, on his return to the UK, Rolf lost the tape, and phoned Egan and got him to sing the song over the phone. The year was 1969 it became popular once again – becoming a No.1 Top Selling Hit in the UK for Harris.
The song describes the story of two boys who grew up to fight in war.
---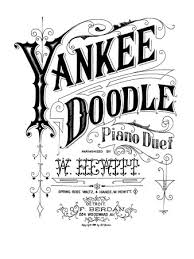 YANKEE DOODLE
Researchers of Traditional music place the origin in pre-Revolutionary War, originally sung by the British military officers to mock the disorganized colonial Yankees with whom they served in the French and Indian War. The melody was believed to have come from a nursery 'Lucy Locket'.
The earliest known version was believed to have come from around 1758. On original sheet music which accompanies early lyrics reads as a side note, "The Words to be Sung through the Nose, & in the West Country drawl & dialect"
It is often performed patriotically in the US today and is the state anthem of Connecticut.
---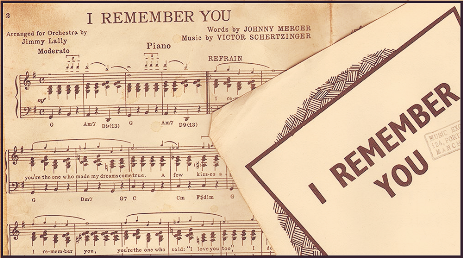 I REMEMBER YOU
The melody was written by Victor Schertzinger, the lyrics by Johnny Mercer and was published in in 1941. The songs first appeared in a movie 'The Fleet's In (1942).
On May 27th 1962, Frank Ifield recorded the song with a Country feel, with a yodel and skyrocketed to No. 1 on the UK single charts. It was by July 1962, 250,000 sales were made on the recording, earning Ifield a silver disc.

Slim Whitman known for his yodels also recorded the song at a later date with a similar country feel. In 2010, Australian entertainer Nicki Gillis recorded a duet version of the song, that included an original verse that was not recorded in the Frank Ifield's 1962 version.
After 70 years or so, 'I Remember You' is still popular.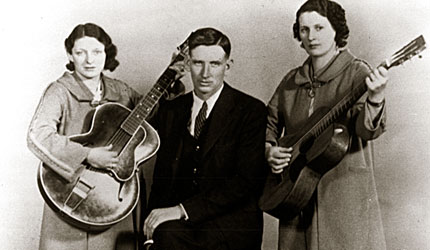 CAN THE CIRCLE BE UNBROKEN
The original lyrics was written by Ada R. Habersham (1861 - 1918) - (picture on the left)
She was a devoted Christian and in 1905 she was asked to write gospel songs and over a 12 month period she had near 200 ready for him. The song: Will The Circle Be Unbroken was one of her works and was copyright in 1907.
The melody was composed by: Charles H. Gabriel (1856 - 1932)
In 1935 A.P. Carter (of famous Carter Family) had put his own lyrics to the song and became a popular song. Ada's original version was more philosophical, the version written by A.P Carter told of a cold and moving story about a departed mother
---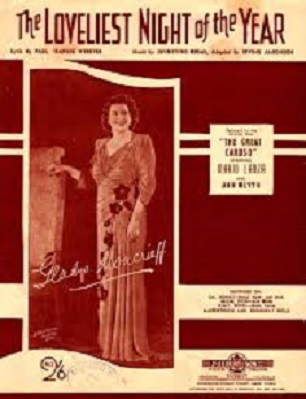 THE LOVELIEST
NIGHT OF THE YEAR
This popular song of last century, was first published in 1888, as waltz called Sobre la solas (in English 'Over The Waves') written by J. P. Rosas.
In 1950, the music was adopted by Irving Aaronson and lyrics by Paul F. Webster for the movie 'The Great Caruso'. It was sung by the very popular Mario Lanza and had reached No.3 on the US Billboard Charts in 1951.
The song has been recorded countless times, the more notable singers were: Connie Frances, Foster and Allen, Vera Lynn and Gladys Moncrieff (an Australian singer who became known as Australia's Queen of Song)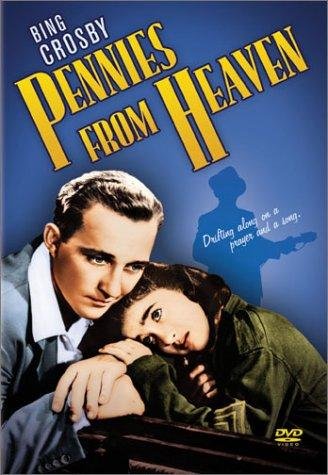 PENNIES FROM HEAVEN
This song was popular during the 1930's. The music was by A. Johnston, and lyrics by J. Bourke. Its believed that Bing Crosby first recorded for a movie of the same title in 1936.
It was extremely popular that also in 1936, it was recorded Billie Holiday. Later it was recorded/performed by many others including: Louis Armstrong, Tony Bennett, Frank Sinatra, Dean Martin – and in 1960 it became a major hit for The Skyliners.
The 1936 recording by Bing Crosby was inducted into the Grammy Hall of Fame in 2004.
---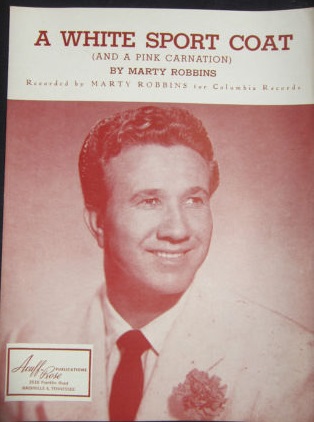 A WHITE SPORTS COAT (and a Pink Carnation)
This song was a 1957 Rock and Roll song, written by Marty Robbins. It was officially released in March 1957.
In an interview, Marty Robbins stated that he had written the song in 20 minutes while being driven in a car. He got the inspiration when driving past a High School yard full of students dressed for their prom.
It became Marty's third No.1 hit, also reaching No.2 on the US Billboard Pop Charts. In the UK it was a notable hit for Rock and Roll singers Terry Dene and also The King Brothers. Other artist who have recorded the song includes: Johnny Desmond, Webb Peirce, Daniel O'Donnell and Buddy Knox to name but a few.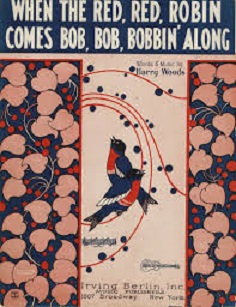 WHEN THE RED, RED ROBIN (Comes Bob-Bob-Bobin' Along)
This song was written by Harry M. Woods in 1926.
The song an instant hit for singers such as: Cliff Edwards, although Al Jolson had the most successful hit with his recording. Jolson also performed the song in the short film A Plantation Act in 1926.
It became a signature tune for singer and actress Lillian Roth who always performed at the height of her musical career late 1920's to the late 1930's. In 1953 the song was recorded by Doris Day reaching success on the charts. Bing Crosby recorded the song on radio in 1956. The song was very popular, it was taught in schools. Other artist who have recorded the song include: Perry Como, Dean Martin and Russ Conway to name a few.
---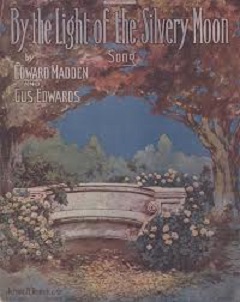 BY THE LIGHT OF THE SLIVERY MOON

The music was written by E. Madden, and Lyrics by G. Edwards.
By The Light Of The Slivery Moon was first published in 1909, and it was first performed on stage by Lillian Lorraine.
The song was used in many TV shows and Films, one film by the same title in 1953 starring Doris Day.
It became a sequel to 'On Moonlight Bay' which also starred Doris Day.
It was also recorded by: Ada Jones (1912) Billy Murray (1923) Fats Waller (1942), Little Richard, Al Jolson (1946), Dinning Sisters and Jackie Wilson (1957).
---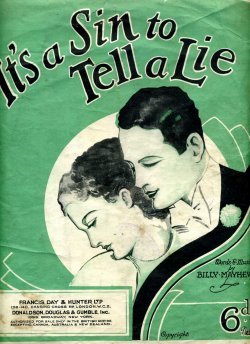 IT'S A SIN TO TELL A LIE

Written by Bill Mayhew – 1936. It was originally a waltz, although during the 1950's and 1960's the melody was often played in fast 4/4 tempo, recorded by the Kenny Ball Band.
It was first recorded by Fats Waller, and was revived in 1955. It became a Top 40 Country Music Hit for Slim Whitman in 1971. It was in 1978 John Denver told a story about the song – and recorded it live at the Sydney Opera House.
Other versions of this popular song were by: Billie Holiday, Tony Bennett, Bobbi Martin, Steve Goodman, Bobby Vinton, Patti Page and Vera Lynn.

---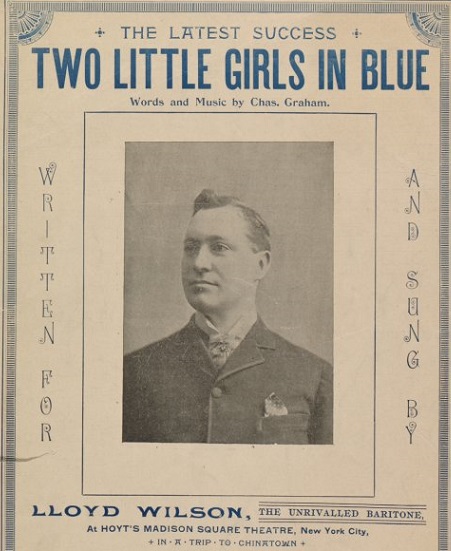 Charles Graham an English songwriter, wrote the song, and was first published in 1893. The inspiration came from his two youngest children. He wrote many popular songs including 'My Dad's The Engineer' and 'The Picture Turned Towards the Wall'. He struggled in his song-writing to please the American public. Charles sold the song for $10, however the publishers paid him another $150 because of the massive sales.
On May 25th 1901 it was reported that a young boy Howard Graham 10, was up before the court charged for begging. The boy was singing 'Two Little Girls In Blue' near the entrance of the Produce Exchange. Many of those in the courtroom were in tears. He was the son of Charles Graham (the author of the song).
The boy's mother, Alice Graham addressed the court – "My husband Charles Graham who wrote the song, and many other popular songs, died in destitution two years ago" As she continued telling her story, her son began to cry she called him to her and kissed him – then the magistrate stared very hard out of the window. She said "I live in two little rooms with Howard and three other child, my eldest son is fourteen and works as a messenger, we live on his pay and what I earn as a scrubwoman. "My boy is not a bad boy, but I am too poor to take proper care of him. I wish you could send him to some institution judge" The magistrate looked at the mother and said "I will send him to an Orphanage at Westchester, you can see your son whenever you desire".
The song 'Two Little Girls In Blue' became very popular and was translated into French and German. It has been recorded by many singers including:- Bradley Kincaid, Wilf Carter, Gerald Adams (1929), Robert Farnon (1956) even a cover by our own Slim Dusty and gentle giant of Australian Country Music, Reg Poole who did an arrangement of the song in 1982.
---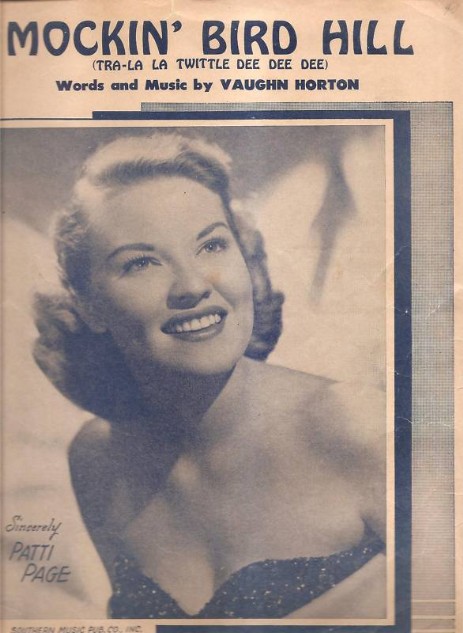 This song was written by George V. Horton. The melody of the Mockin' Bird Hill is based closely on a Swedish waltz 'Livet I Finnskogarna' which was recorded in 1915.
Patti Page made the song popular when she recorded it in 1951 and 200,000 records were quickly shipped out to the outlets. It spent 22 weeks on the Pop Charts positioning at #2.
Others who have recorded Mockin' Bird Hill including: Burl Ives (1960) Jean Shepard (1961), Donna Fargo (1977) and Slim Whitman. This song is still performed today by various artists.
---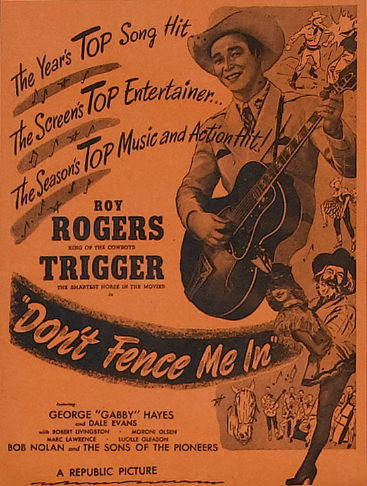 DONT FENCE ME IN
The song was written in 1934 – music by C. Porter and lyrics by R. Fletcher. It was originally written for film musical for 20th Century Fox. In 1944 Warner Bros. resurrected 'Don't Fence Me In' for Roy Rogers to sing in the movie Hollywood Canteen.

The song was also recorded by Bing Crosby and the Andrews Sisters the same year which had sold more than 1 million copies. Later it was recorded by Gene Autry and Eddy Arnold, Lynn Anderson and many others. It has been used for radio and TV commercials.
In 1945, the song was sung again by Roy Rogers in the film 'Don't Fence Me In'.
---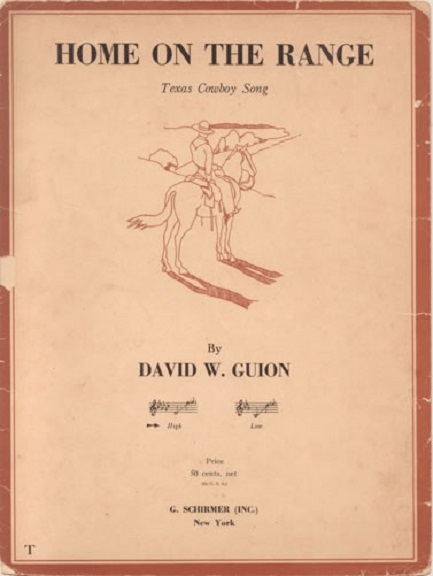 The song was written by Dr. Brewster M. Higley (1823 – 1911).
It was first published in 1873 under the title 'Oh Give Me A Home Where The Buffalo Roam'.
There is a little difference from his original song to the song we know today 'Home On The Range' which was adopted by settlers and cowboys. In the early 1900's the song was arranged by Texas composer David W. Guion, was often credited as the composer. The song is commonly regarded as the unofficial anthem of the American West.
It has been recorded by many singers including Frank Sinatra in 1946
---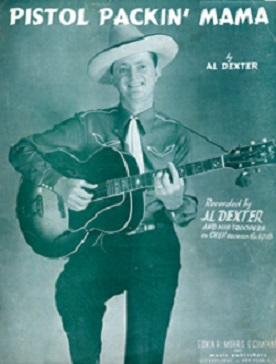 PISTOL PACKIN' MAMA (LAY THAT PISTOL DOWN)
This was a song by Al Dexter in 1942.
Dexter recorded the song in early 1943 and it's believed that he sold more than 3 million copies by late 1944. It was also believed to have sold two hundred thousand copies of sheet music. It became a very popular song and became a No.1 Country Song. Singers such as Big Crosby and the Andrew Sisters recorded their own version. During the 1960's Australia's own 'Country Music Clown' Chad Morgan picked on the song and recorded his own version which he still performs it today.
Dexter made around $250,000 in royalties during the 1940's/50's. The story behind the song – Al opened his own Texas Honky Tonk and was sitting one evening when a lady bursts through the do waiving a gun. She started chasing her husband's girlfriend – who happened to be one of Al's waitresses. This commotion got Al thinking "How do you talk to an angry woman coming after you with a pistol?" he came up with:
Drinkin' beer in a cabaret, and I was having fun
Until one night she caught me right, and now I'm on the run
Lay that pistol down babe, lay that pistol down
Pistol packin' mama lay that pistol down
---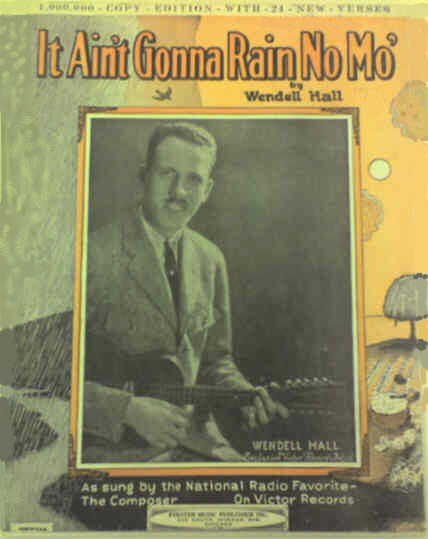 IT AIN'T GONNA RAIN NO MORE
The song was believe to be the creation of Wendell W. Hall. A much similar song was in publication dating back to 1870's some 20 years before Hall was born. It was called 'Raincrow Song' of African American tradition. It was suggested Hall may have come across the song during his vaudeville days, and wrote his own lyrics. Hall recorded the song in 1923 in Britain and sold more than 2 million copies, and spent 20 weeks on the US charts. Today, the song is still very popular particularly among children
---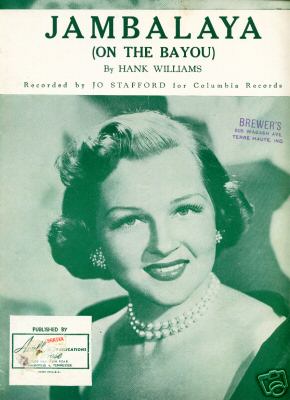 Written and recorded in 1952 by Hank Williams, it reached #1 on the US Country Charts for 14 non-consecutive weeks and remains a popular song today.
It seems that the song has been performed / recorded by many in the music industry including: Fats Domino, John Fogerty, Brenda Lee, Pat Boon, Freddy Fender, George Jones, The Carpenters, Emmylou Harris, Slim Newton and many more.
The melody was taken from the Cajun French song 'Grand Texas'. It's believed that when Williams released his version 'Jambalaya' the Cajuns re-recorded the song using the lyrics that Hank at written although translated it into Cajun French language.
Hank Williams also recorded a sequel of the song titled 'I'm Yvonne (Of The Bayou) from a female prospective, but it was never as popular as 'Jambalaya'. It was stated by researchers into the lyrics that Williams wrote, that it was written while visiting a small bar located south of the Choupique Bayou owned by an Yvonne Little that the song 'Jambalaya' referred to some memorable moments there.
---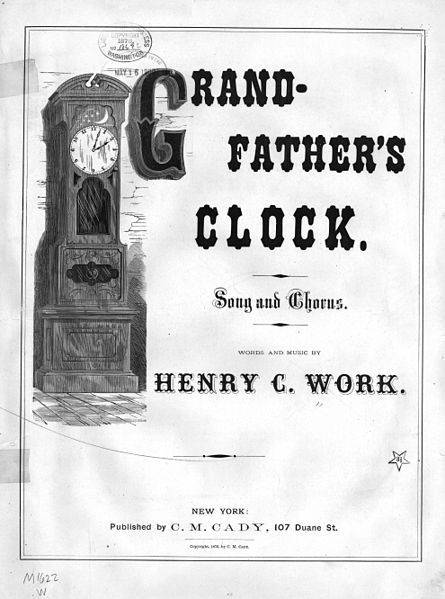 ---
---
This unforgettable composition was written by Henry Clay Work in 1876. The song is told from a grandson's point of view about his grandfather.
The story relating to the song, goes back to Yorkshire in England. The George Hotel, was a rest stop for travellers and was believed to have been run by two brothers, surname Jenkins. In the lobby of the hotel stood an old up-right clock which kept perfect time, until one of the brothers died, then it started losing time, several minutes a day. No matter what they did, the clock couldn't be fixed. It was told that when the second brother died at the age of 90, the old clock stopped completely and never ran again.
Attempts to fix the clock by the new owner of the George Hotel failed. It remained in the hotel as a mysterious landmark – dusted and polished but silent. Henry Clay Work, by chance stayed at the said Hotel, and was told of the story of the two brothers and the clock that wouldn't go again. When he returned to the US, he wrote the melody and lyrics – visualizing that the old man was his grandfather.
The song became well known, also the name of the clock, before he wrote the song, they were called 'Case Clocks', Coffin Clocks, Standing Clocks, Upright Clocks – when his song was released and became popular they were then called 'Grandfather Clocks'
---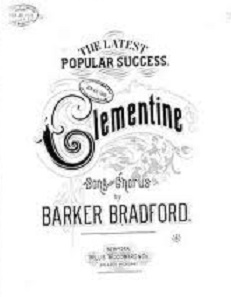 Clementine is a traditional American folk ballad and usually credited to Percy Montrose (1884) and sometimes credited to Barker Bradford. The song is based on a much earlier composition titled 'Down By The River Lived A Maiden' which was written in 1863 by H. S. Thompson.
The popular ballad appears to be a sad one about a bereaved lover for his loss of his darling, the daughter of a miner in the 1849 California gold rush, it becomes obvious as the ballad continues that it's a tongue-in-cheek parody of some sad ballad. Her tragic demise is caused by a splinter in her toe which caused her to fall into a pond and drown. Then finally he forgets his clementine with just one little kiss from her sister. It seems that every type of singers had either recorded or performed this song:- they include: Col Joy, Bobby Darin, Freddie Quinn, Connie Frances and Gene Autry to name a few.
---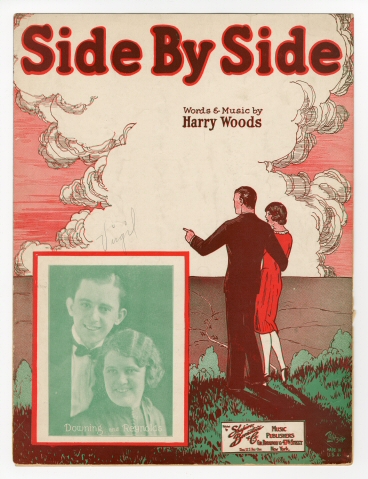 Composed in 1927, the lyrics were written by G. Kahn whilst the music was by: H. Woods, today it is considered a standard song. Harry Wood composed many songs during the 1920's on piano, even though it was stated that he was born with no fingers on his left hand.
Side By Side, which became a hit, was first recorded in 1927 by Cliff Edwards, the most popular recording of the song was in 1953 by American Pop artist Kay Starr. It had been recorded by many artists including: Dean Martin & Jerry Lewis, Ray Charles, Nick Lucas and Country Music Legend Patsy Cline who gave it a real country feel.
---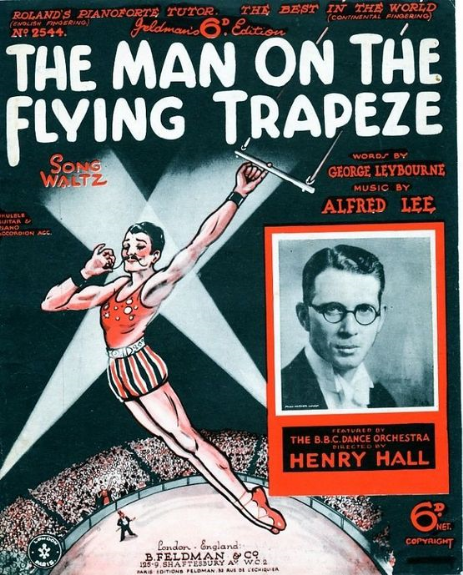 THE DARING YOUNG MAN ON THE FLYING TRAPEZE
This rather comical song, was originally published under the title 'The Flying Trapeze', written in the 19th Century about a famous French lying trapeze circus performer 'Jules Leotard' b.1838 – d.1870 (pictured left). It is believed that Jules Leotard was the person who invented the 'leotard' which became standard clothing for ballet dances.
It was first published in 1867, and written by George Leybourne & Gaston Lyle. In 1935 a comical movie inspired by the song was released titled 'Man On The Flying Trapeze' staring W.C. Fields and Mary Brian. First recorded in the 1920's, however it was during the 1960's it became a massive hit for Ken Todd, it was later recorded by Australian entertainers Tex Morton and Kathleen McCormack among many others.
---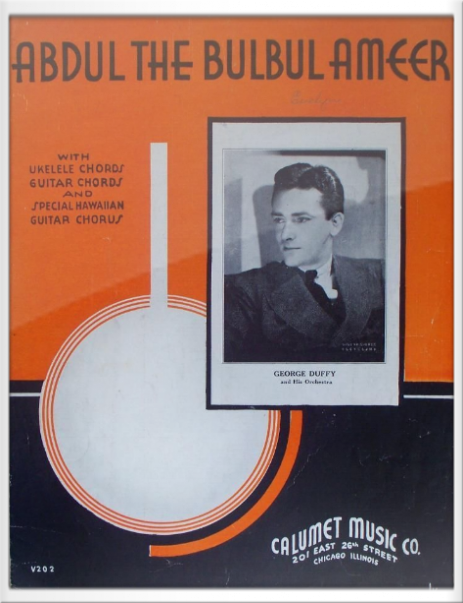 ABDUL ABULBUL AMIR
Another rather popular song, originally written as a poem in 1877 (during the Russo-Turkish War) by Percy French, and later set to music.
It tells the story of 2 valiant heroes – a Russian, Ivan Skavinsky Skavar and one of the Sultan's ma'lukes Abdul Abulbul Amir – who because of their pride, came to fight and kill each other. The poem inspired an MGM cartoon in 1941 of the same title.
Frank Crumit – who was famous for his rendition of the song in 1927, wrote three sequels
1. The Return of Abdul Abulbul Amir
2. The Grandson of Abdul Abulbul Amir
3. Minnie Skavinski Skavar
Tex Morton also did a version of this popular song.
---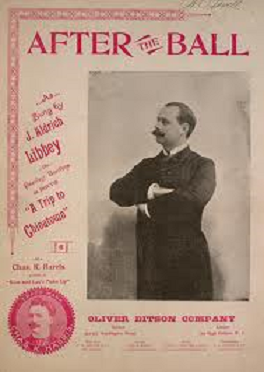 AFTER THE BALL ( IS OVER )
Like many popular songs of the gone by era, they are not Country ballads, however they have been recorded by many country singers.
After The Ball – was written in 1891 by Charles Harris. In the song, an old man tells the sadden story to his niece why he never married – that he saw his sweetheart kissing another many at ball, and refused to listen to her explanation. It was many years later, after the woman died, he had discovered that the man was in fact her brother.
In the year 1892 it sold (music sheet form) over two million copies. In total sheet music sales exceeded five million copies making it the best seller in Tin Pan Alley's history.
There have been many recording of this old number – the earliest recording of the song was prior to 1925, Tex Morton recorded the song during the late 1960's – and in recent decades Foster and Allen.
---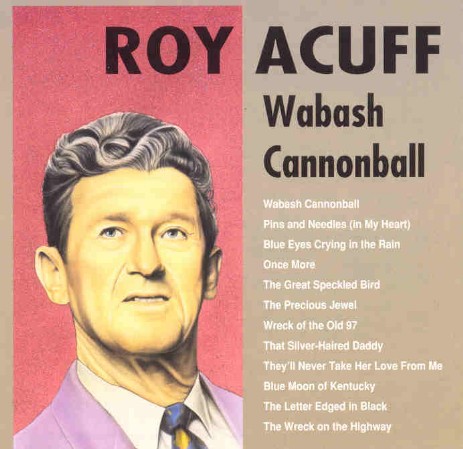 The ballad is an American folk song – about a fictional train, thought to have originated in the late nineteenth century. It was first published in music sheet form in 1882 and titled 'The Great Rock Island Route' and credited to JA Roff. The chorus is written below.
Now listen to the jingle, and the rumble, and the roar,
As she dashes thro' the woodland, and speeds along the shore,
See the mighty rushing engine, hear her merry bell ring out,
As they speed along in safety, on the "Great Rock-Island Route."
In 1904 it was re-written by William Kindt under the title 'Wabash Cannon Ball. The Carter Family made one of the first recordings under the new title in 1929, although it was not released until 1932. The chorus the way the Carter Family recorded it.
Oh, listen to the jingle, the rumor and the roar
As she glides along the woodland, o'r hills and by the shore
She climbs the flowery mountain, hear the merry hobos squall
She glides along the woodland, the Wabash Cannonball.
In 1936 Roy Acuff recorded another version and is one of the fewer of forty all time singles to have sold 10 million copies worldwide. In 1949 Tex Morton recorded a slightly different version of "The Wabash Cannon Ball' with the famous Morton yodel, years later recorded by Johnny Cash, Boxcar Willie, Jerry Reed, Hank Snow and Chet Atkins to name a few.
---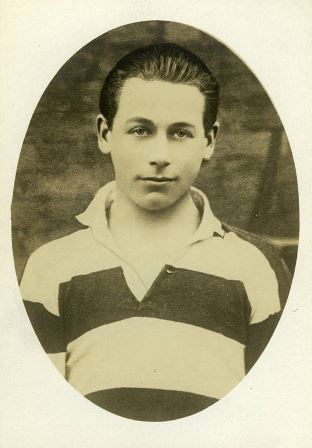 KEVIN BARRY
A rather popular ballad – regarding the death of 18 year old Kevin Barry in Ireland, who was a member of the
I.R.A (Irish Republic Army). He was one of group of 10 men who were executed in 1920-21, known as the forgotten ten.
It was at Mountjoy Jail, Dublin, Kevin Barry was hanged on November 1st 1920, for his involvement with the IRA, which
saw the death of 3 British Soldiers. His execution lead to outrage mainly because of his age, the news went global.
The ballad 'Kevin Barry' was written shortly after his death, although the author's identity was unknown. The melody
to the ballad is from a much older song 'Rolling Home to Dear Old Ireland'. Many Country Music singers have recorded
or performed this ballad – including: Stompin' Tom Conners, Hank Locklin and Tex Morton.
---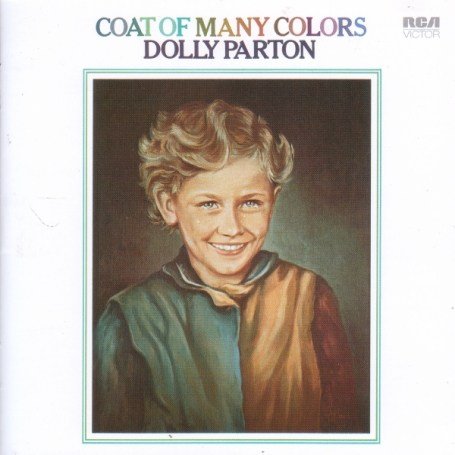 COAT OF MANY COLOURS
This was a song written by Dolly Parton in 1969, while on tour with Porter Wagoner. As Dolly recalls, while traveling in a bus with Porter, no one had any paper for her to write the lyrics down, so she ended up writing them down on a dry-cleaning receipt from one of Wagoners suits. It was recorded and released as a single on October 30th 1971, backed with 'She Never Met A Man, She Didn't Like'. The song had reached No.4 on the American Country Music Single Charts.
In the song, she tells the story how her mother stitched together a coat of many colours, from rags which were given to the family. Her mother related the story from the bible to her about Joseph and his coat of many colours, and why the colourful coat was so important.
After many years, Dolly kept the coat – which is believed to be on display in her Chasing Rainbows Museum at Dollywood. Porter Wagoner had also donated to the museum, in a frame the dry-cleaning receipt which she originally composed the song on. A Country Music classic.
---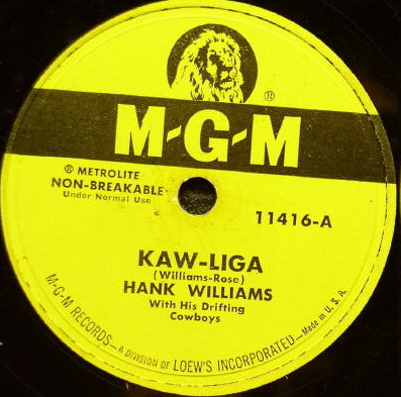 KAW-LIGA
Country Music legend, Hank Williams wrote the song 'Kaw-Liga' with Fred Rose.
Hank recorded it with his backing band 'Drifting Cowboys' in 1952, however it was not released until after his death in January 1953. Kawliga (pronounced 'Kuh-lie-juh)) is a community in Alabama on Lake Martin. The title of the song was derived from an Indian town located on the banks of the Kowaliga Creek until about 1836. A wooden Indian statue which Hank refers to in the song, unfortunately is now replaced with one made of plaster. Hank Williams was staying in a cabin looking out the window at the wooden statue when he wrote the song.
The song was an instant hit, remaining at No. 1 on the Billboard Country Charts for 14 weeks.
The legend:-
Kawaligia was a lonely Creek Indian who wanted to marry a lovely Indian maiden but she rejected his proposal. It was after she left him the lovesick man stood by the shore of the lake hoping the maiden would return. Finally, standing in the same place too long, waiting for his love to return, his feet rooted to the ground and he became a wooden Indian.
---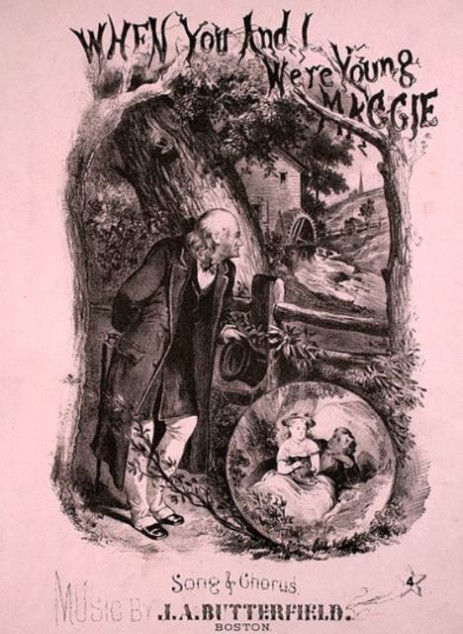 WHEN YOU AND I WHERE YOUNG MAGGIE
It was first published as a song in 1866.
The lyrics tell of the tragic love story of Maggie Clarke and George Johnson who, in the early 1860s, courted in Canada near Hamilton Ontario. He was a school teacher, and she was a student. They were married in 1864, but Maggie's health deteriorated and she died less than a year later. As from 2001, the schoolhouse where there lovers met, still stands on the escarpment above Hamilton, and a plaque bearing the name of the song 'When You And I Were Young, Maggie' has been erected in front of the historic building.
Immortalizing their short life together, it was originally published in 1865 in a collection of George Johnson's poems titled 'Maple Leaves'. A young Englishman, James Butterfield was so touched by the poem that he set it to music. Traces of the old mill can still be seen at Albions Falls near Hamilton.
'Maggie' was first performed in public in 1870, and first recorded in 1905 by Corinne Morgan & Frank Stanly.
---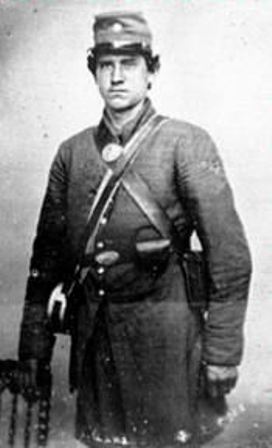 The song is based on a true story in North Carolina, USA. In the year 1866, a young lady by the name of Laura Foster was murdered, she was stabbed to death with a large knife. A Confederate veteran Thomas Dula (the 'a' prounced as an 'y', over time the name Dooley was used) was convicted of her murder.
It seemed that Tom had a lover prior to the war, Anne Foster a cousin to Laura. Anne couldn't wait for his return and married, when Tom finally did return he courted Laura Foster and was going to marry her. Her cousin Anne Milton (Foster) became jealous, and her love for Tom rekindled.
Tom made arrangements with Laura to run away and get married. In the night she took what clothes she could carry on horseback and left home for her rendezvous with Tom.
She disappeared. Laura was eighteen at the time. Her family searched for her, but to no avail. As time went on, the people suspected she had run away with Tom Dooley. More search parties were formed and about three weeks after Laura disappeared, her horse returned, with a broken halter. The searchers found where the horse had been tied to a tree. The soil was disturbed with horse tracks. After more search, some people thought Laura's body had been disposed of in the Yadkin River.
Laura had many suitors. Among them was a schoolteacher, Bob Grayson (mentioned in the song) who wanted her for his wife. Grayson helped North Carolinians capture Tom Dula and was involved in returning him to North Carolina.
Some time later, Ann got into an argument with her sister, Perline Foster. Ann was deeply critical of her sister. Perline warned Ann that she better be careful or she would tell what she knew about Laura. Ann answered that Perline was just as guilty as she was. The authorities became suspicious of the two girls and began to question them. Perline became scared and broke down. She said Tom Dooley had killed Laura, that Ann took her to the site of the grave. Perline directed the search party to the place of burial. The search party spread out over the entire area. James Melton, James Isbell, David Horton and Bob Grayson were in the search party.
The crowd started digging and found the body of Laura Foster. Her legs had been broken and what appeared to be a stab wound was found in her breast. Also found was the small bag of Laura's clothing. There was no doubt, it was Laura. Her body was taken to the nearest town, funeral arrangements were made and she was buried on a high hill known ever since as "Laura Foster Hill".
From the very beginning Tom insisted that he was not guilty, but he would say nothing against or about his relationship with others. The attorney tried in every way possible to draw him out, but Tom remained mute throughout the trial.
On the 1st May, 1866, Tom Dooley rode through the streets of Statesville in a wagon, sitting on top of his coffin. He played his banjo, joking with the throng of people walking along. He picked his favorite ballad on the old banjo, laughing as the wagon neared the gallows. When the rope was placed around his neck, he joked with Sheriff W. E. Watson, "I would have washed my neck if I had known you were using such a nice clean new rope".
Asked in seriousness if he had any last words to say, Tom held his right hand and replied, "gentlemen, do you see this hand? Do you see it tremble? Do you see it shake? I never hurt a hair on the girl's head". The trap door was dropped.
---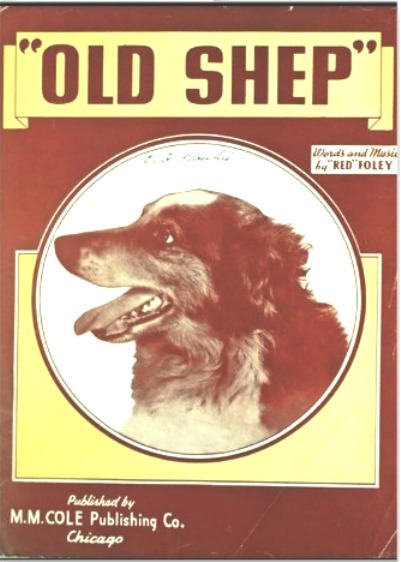 The song was written by Red Foley (Clyde Julian Foley) in 1933.
When a child, Foley owned a German Shepherd dog which was poisoned by a neighbour, the dog was called 'Hoover'. He may have used the name 'Shep' as it was the first four letters of the word shepherd, describing the dog he had.
Red Foley first recorded the song in 1935 and again in 1941. The song 'Old Shep' became a classic, and soon various other artists would record the song including: Hank Snow, Johnny Cash, Wade Ray, Ralph De Marco, Walter Brennan and Australian singers Tex Morton, Buddy Williams and Reg Lindsay.
In 1945, wearing a cowboy outfit - a 10 year old Elvis Presley sang Old Shep at his first public performance, at the Mississippi/Alabama Fair. He stood on a chair to reach the microphone and came fifth place walking away with $5 and free tick to the rides at the fair. Elvis eventually record the sing in 1956.
It's been reported that the only version of the song ever to appear on the UK Single Charts was by Clinton Ford in 1959 where it spent one week at No.27.
Even today, the song is very popular.
---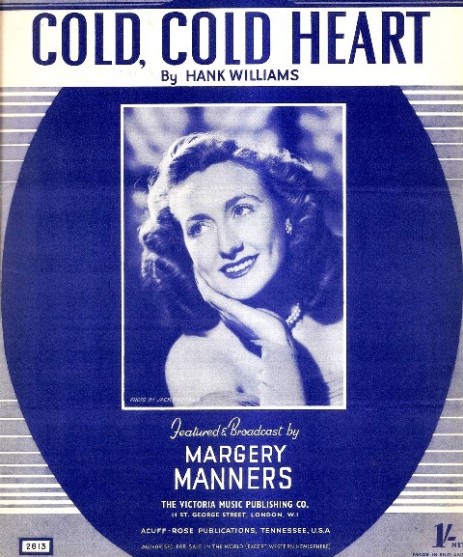 Many songs written by the great master himself of Country Music, Hank Williams (senior) had been drawn on his life's experience, and thing that have happened around him.
The song 'Cold Cold Heart' was written in 1950.
It had been published in the media, that his second wife had a home abortion which was meant to have been kept a secret from Williams. This was not the case, infection had set in, and when Williams returned from a tour, he headed to the hospital, where according to a publication, a terrible row took place.
It was believed that when Hank Williams left the hospital, he'd gone back home and wrote the song 'Cold Cold Heart'. Pouring his heart and soul into the song, it became a big hit, and recorded by many artists. Even today country music singers near always include at least one of a Hank Williams song in their recordings or live performances.
Hank Williams will always be remembered for the wonderful songs he had written in such a short time - yet, only he knew the stories behind each of his songs.
---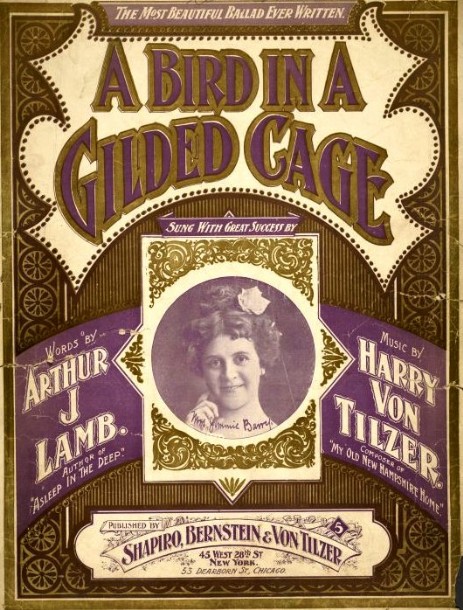 A BIRD IN A GILDED CAGE
This is one of those early songs that many of our pioneering singers recorded, including our very own Tex Morton in 1938
The song was composed by Arthur J. Lamb and Harry Von Tilzer. It became a popular sentimental ballad of 1900, selling more
than two million copies in sheet music. Originally the lyrics were changed before publishing (1899) to ensure the listening understands that the woman in the song was married, not a mistress to the aged man.
It was believed that when Harry Von Tilzer was at the piano working on the melody in a public house - he had noticed that many of the girls nearby were crying. He was convinced that the song could be a hit. He'd later claimed, that this song 'Bird In A Gilded Cage' was the key that opened the door to wealth and fame for him.
In 1900, it was a No.1 hit for both Jere Mahoney and Steve Porter and a No.2 hit for Harry McDonough. The song describes the sad life of a beautiful young woman who has married for money instead of love.
---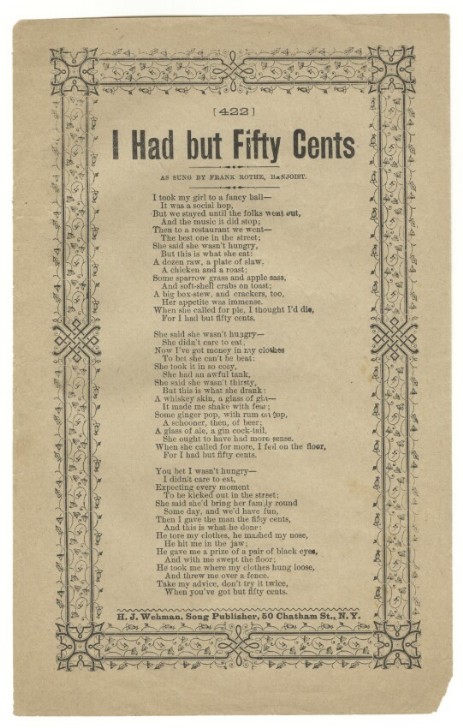 I learnt this rather comical song from my grandmother who learnt it from her father around 1914. Here in Australia before 1966, we had pounds, shillings and pence, and she learnt the song under the title of 'Eighteen Pence'. It was one of many songs she learnt from her father. In part the lyrics goes . . .
He broke my nose, he tore my clothes
He punched me in the jaw
He gave me a prize of pair of black eyes
And with me wipe the floor
He caught me were my pants hung loose
And through me over the fence
Take my advice, don't try it twice
If you have but eighteen pence
The song was originally titled '50 Cents' and first published in 1881, words by Billy Mortimer. Sam Devere made the song popular during the 1880's. Although it has a slightly different lyrics to 'Eighteen Pence' and the music is completely different, at least from the way it was sung to me.
It was later changed to 'I Had But Fifty Cents' and recorded by many artists including:- Robert Crumb, Blink Brothers, Ricky Skaggs, The Punters and Smokey Greene. This version of the song is still being performed and recorded today.
---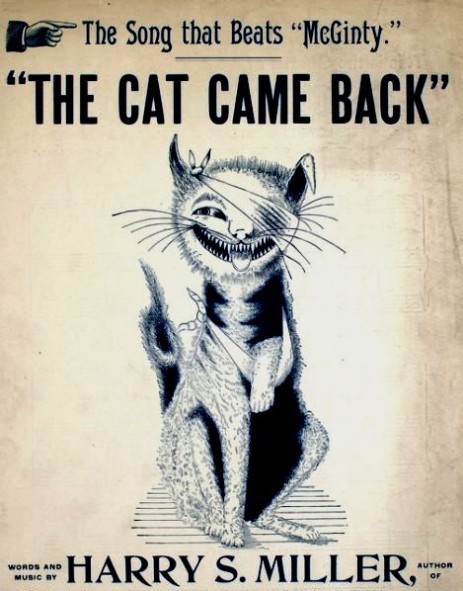 THE CAT CAME BACK
The Cat Came Back was a comical song written by Harry S. Miller in 1893.
The song's about Old Mister Johnson who had an old yellow cat, that he didn't want, and when he tried to get rid-of it, it kept on coming back. In the original song by Miller, the cat eventually drops dead.
In regards to the old superstition that cats have 9 lives, the original song has 11 verses. On the 10th verse the cat dies, then comes the 11th verse where its ghost comes back. The chorus is meant to be sung between each verse making it very drawn-out song.
The earliest public recording was in 1924 by John Carson.
There have been many versions of the song, and around 1961 Tex Morton recorded the song, nowhere near the way it was originally written, even the melody was changed - he learnt it while touring the US, and performed it everywhere he went, it was certainly was a classic.
---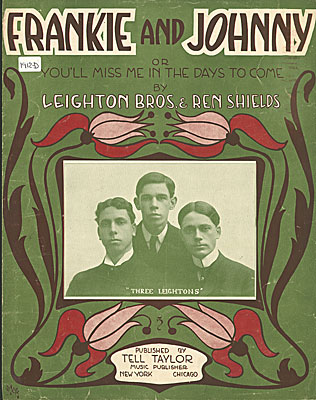 FRANKIE AND JOHNNY
"Frankie and Johnny" (sometimes spelled "Frankie and Johnnie"; also known as "Frankie and Albert" or just "Frankie") is a traditional American popular song. It tells the story of a woman, Frankie, who finds that her man Johnny was "making love to" another woman and shoots him dead. Frankie is then arrested; in some versions of the song she is also executed.
The song was inspired by one or more actual murders. One of these took place in 1899 where, Frankie Baker a 22-year-old woman, shot her 17-year-old lover Allen (also known as "Albert") Britt in the abdomen. He and another woman 'Nelly Bly' (also known as Alice Pryor) had won a prize in a slow-dancing contest. Britt died of his wounds four days.
In 1899, balladeer Bill Dooley composed "Frankie Killed Allen" shortly after the Baker murder case.
The first published version of the music to "Frankie and Johnny" appeared in 1904, credited to and copyrighted by Hughie Cannon, the composer of "Won't You Come Home Bill Bailey"; The Frankie and Johnny song was also been linked to Frances "Frankie" Stewart Silver, convicted in 1832 of murdering her husband Charles Silver in Burke County, North Carolina. Unlike Frankie Baker, Silver was executed.
Another variant of the melody, with words and music credited to Frank and Bert Leighton, appeared in 1908 under the title "Bill You Done Me Wrong;" this song was republished in 1912 as "Frankie and Johnny," this time with the words that appear in modern folk variations:
Tex Morton recorded a version of Frankie & Johnny in 1949, and again during the 1970's.
---